Shake Shack Serves Up Best All-American Roadside Burger
Imagine a juicy patty of 100 percent all-natural Angus beef, in between two buttery soft buns. Add crinkle-cut Yukon potatoes on the side, a vanilla custard shake and strawberry-mint lemonade, and you have the perfect all-American meal.
And no, I am not talking about In-N-Out Burger.
My love for hamburgers has opened up the search to find a burger that is not only satisfying but has the best side companions. Often times, a restaurant will have a great burger and horrible fries. And on a rare occasion, I will come across burger restaurants that have great fries and a tasteless hamburger.
Well I went to Shake Shack and it is my favorite burger restaurant. 
There are so many burgers to choose from. The 'Shroom Burger, a sandwich fit for a vegetarian, boasts a crisp-fried portobello mushroom filled with melted muenster and cheddar cheeses, topped with lettuce tomato and ShackSauce. The SmokeShack is a smoking option for all bacon lovers with all-natural applewood smoked bacon, chopped cherry pepper and, of course, ShackSauce.
Since I have completely cut out pork from my diet, I opted for the ShackBurger while I was in Los Angeles. This may be a classic burger with lettuce, tomato and ShackSauce, but it is packed with tons of flavor. There is something amazing about less being more when it comes to food. The ShackBurger has a minimal amount of toppings, but that opens the door to tasting the true juiciness and flavors that are packed in every bite.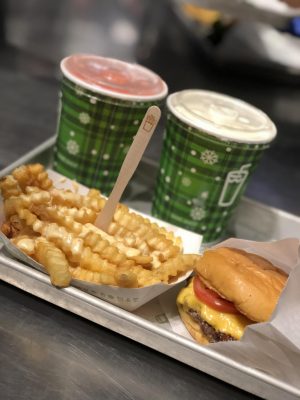 Potatoes are a classic staple in the American diet. Some fries are either too greasy, too crunchy, or just miss the mark in what should be allowed to be considered a French fry all together. Shake Shack has perfected the recipe in cooking and cutting the perfect fry. Its fries are crinkle-cut Yukon potatoes, with zero artificial ingredients. I love fries that are salted just right. And Shake Shacks fries deliver just that. Top the fries with its blend of cheddar and American cheese sauce, and you are in for an addiction to set in. I have always ordered them plain but was encouraged by my sister to try the fries with the cheese, and I will order them this way from here on out.
Shake Shack began as a hot dog cart in Madison Square Park in New York City in 2011. It was such a success that on June 12, 2004, Shake Shack officially opened a permanent food kiosk in the park.
Shake Shack is not just a great place to eat, but its architecture is very unique. The original restaurant was designed by the architecture firm SITE Environmental Design to be economically friendly with the park. From the Shake Shake in New York City to Los Angeles, the outdoor settings are always very clean and have a great ambiance.
The best part about Shake Shack is that its menu varies. It sells 100 percent all-natural cage free chicken, served on non-GMO Martin's potato roll. There are no hormones and no antibiotics ever.
Although I have yet to try its flat-top dogs (hotdogs split in half and griddled to a crisp), they look amazing. They are 100 percent all-natural Vienna beef with no hormones and no antibiotics.
Buying one of Shake Shack's featured shakes is a must. It is rich and creamy and goes well in conjunction with your roadside meal.
Some restaurants take pride in its food and forget to focus on one very important component when sitting down and having a meal: an ice cold beverage. Shake Shack has more than enough to choose from when it comes to drinks. The Shack-made strawberry lemonade, with mint, is the best combination of sweet and tart. All of the flavors harmonize to create the perfect thirst quencher. If you are looking for a little more of a buzz, beer is sold on draft and in the bottle. For an even classier option, red and white wines are sold as well. And you can get it by the glass or bottle.
With a Shake Shack dogs menu, your household furry family member can enjoy treats while you are enjoying lunch or dinner. ShackBurger dog biscuits, are made with peanut butter sauce and vanilla custard.
Shake Shack has 46 locations in New York City alone. There are 19 locations on the mainland and 11 locations internationally. The closest locations to Hawaii, are the four locations that are in the Los Angeles area. Three locations are located in Los Angeles, one location is located in Glendale and another in West Hollywood. The best part is if you have a layover in LAX, there is a Shake Shake at terminal 3, gate 34. After trying Shake Shack, In-N-Out will never be your must-go-to burger place.