CUH Bans Pets Due to a 'Lethal' Concern
One of the main reasons students are attracted to Chaminade University is due to the small class sizes, which create a home away from home feeling. The greatest feeling is being greeted by one of the few friendly four-legged friends that grace our campus when you are having a rough day at school. 
Well that is all about to change. And it is utterly ridiculous.
On Friday, Oct. 27, all faculty (except for students) were informed via email of the new policy prohibiting any faculty, staff, volunteers, interns and students from bringing pets into any building on the campus of Chaminade University of Honolulu. The rule went into effect on Wednesday, Nov. 1, and included (but was not limited to) classrooms, work areas, student housing and research areas.
The policy was first proposed to former president of Chaminade, Brother Bernie Ploeger. However, Bro. Bernie refused to allow it. He felt that it was the job of the supervisors to make that call if pets were allowed in certain buildings or classrooms, according to Dr. Cliff Bieberly.
"If you had a problem, you had to bring it up to the supervisor," Bieberly said. 
Brother Gary Morris used to bring his dog Louie to rehearsals in the Loo Theater and can no longer do so with this new policy. Louie is a purebred West Highland White Terrier. A Scottish breed originally from the Highlands area of Scotland.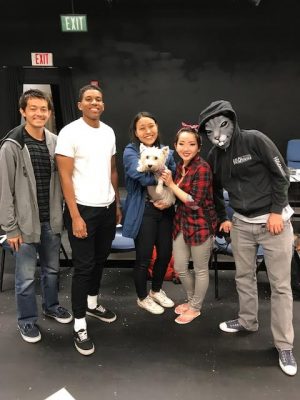 "At the show, one of the actors had an allergy to him, so I just didn't bring him to rehearsal," said Bro. Gary.  "I am sensitive to those things. I never had any other problem. No one had ever complained about him. This came out of the blue, and I don't know their motivation for it. I thought it was directed towards me. Human resources pushed this thing through and said they have gotten complaints that there are students that have lethal allergies to pets and have complained to the ADA [Americans with Disabilities Act]."
Brother Gary is the associate professor of the performing arts department and has been bringing Louie to Chaminade for almost 11 years. Now due to the new policy, his four-legged companion is stuck in a room at the Marianist housing, while Bro. Gary is teaching.
Lethal is a strong word. In fact the very definition is, sufficient to cause death. It is understandable for someone to be allergic to dogs. Or even just uncomfortable around them. But to say dogs are lethal to them is pushing it and sounds extremely overdramatic. 
When talking to Bro. Gary I realized, that everyone got notice of this new policy via email, except the students. So it was left up the the supervisors to appear to be the bad guys and inform the students to keep their pets at home. Interesting. 
Professor Kuriyama has been bringing her dog Marlo on campus for three and a half years. "But never to class. Maybe about one to two times a week at most," professor Kuriyama said. Marlo is a rescue dog, so his breed is unknown. Although, students suggest he may be a cockapoo (cocker-spaniel poodle mix) or a labradoodle (labrador-poodle mix). But to those that love and care for him, he is just a Marlo. 
He has become the communication departments mascot and a pick-me-up when in need. To take him away from those that anticipated his arrival on a day-to-day basis and counted on him to bring a smile to their day, is absurd.
"I was looking at my Instagram stories and saw a picture of Marlo and it said it was his last day," Samantha Girald, a 19-year-old sophomore said. "When I asked my friend who posted it, she said that dogs were not allowed on campus, so Marlo could not come back anymore. When I heard the new rule I was kinda sad. I first met Marlo at Munchie Mania and I would relax and pet him any chance I got."
According to an article on the American Animal Hospital Association website, Chris Meiering, director of innovation at Zuke's, a natural pet treat company located in Durango, Colo., said that an average day at the office includes 25 staff members and 10 dogs, though sometimes there are more than 20 dogs on the company's campus at one time.
"Having them by our side makes us happy, lowers our stress levels, and creates an environment that is comfortable, open, and flexible," Meiering said in this article. "Some offices have water cooler conversations; we have dog playtime conversations. Their presence really builds camaraderie in the office."
According to the email that was sent out to the faculty, the "intent of this policy is to maintain Chaminade's productive, safe and clean environment in which to study, work and visit." The email continued by stating that the "presence of pets in campus classrooms, work areas, offices and research areas can be disruptive as well as unsanitary. Pets may compromise the safety and health of students, faculty, staff and visitors and may expose the Chaminade University to legal liability." 
"I feel like the rule takes away a type of stress reliever for some students. I know I take time out of my day to stop and pet Louie who belongs to a brother on campus," Girald said. "He gave people a reason to talk to each other because it showed us we had a commonality, which is a love for dogs or pets in general."
Both Marlo and Louie, as well as the other pets that graced us on campus will be greatly missed. And it is so upsetting that instead of having to go through the chain of command, a policy is in place with no room to explore outside those boundaries for special instances.
Animals used as disability-aids or that belonging to staff and Marianist housing are safe from this policy.
Marlo was a calm dog and often times, Kuriyama would say people were more concerned with how Marlo was doing than her. Marlo's peaceful demeanor brought the students together, in one spot just to get some emotional therapy from the four-legged pooch.
"I never saw a dog more excited to come to school," Kuriyama said. "When I would tell him that we are going to school in the morning, he would jump up and race to the door with his tail wagging. Now I have to tell him he can't come. I can't believe he can't come."