The Amazing Hawaii Comic Con 2015
The long line reached out the door, the lobby packed with superheroes and creatures from all over the galaxy. Colors and sounds filled your years when you stepped into the convention hall of the people reminiscing over their favorite comic books.
The Amazing Comic Con, this first ever comic con of this size and guest list in Honolulu happened this weekend at the Hawaiian Convention Center. It was packed every day and sold out of VIP passes for this three-day event. Famous comic celebrities were there, including,
Stan Lee, the creator of Spider-Man, X-Men, Avengers, and the Fantastic Four. Rob Liefeld, the creator of Deadpool, Cable, X-force and many more also made a autograph signing appearance, and Kevin Eastman who created Teenage Mutant Ninja Turtles. There were several other comic book artists, cosplayers and bloggers as well. The convention room was full of fun new talent, art, crafts, clubs and thousands of homemade costumes to show off.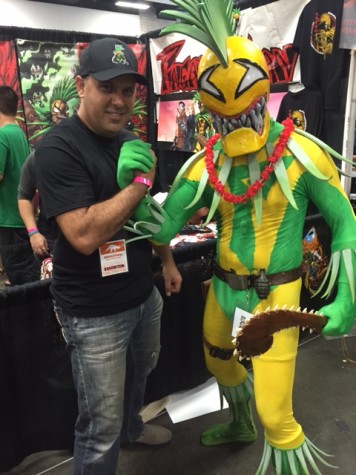 Local artist Sam Campos, is the creator of the one and only Pineapple Man. A crime stopping, Kung foo reincarnated gangster named Isamu Pahoa. He wields a red ukulele, nunchaku hand grenades, and a lei o mono which is a Hawaiian war club lined with shark teeth.
Sam Campos came up with the idea of Pineapple Man one weekend while at Kahuku High School in 1984. He thought of it as a joke and later drew it into a graphic novel in the 1990's. Pineapple Man outsold the Batman and X-Men issues for the year in 1998. Four issues were published in one year, then productions ceased due to over priced distribution costs, forcing Campos to retire Pineapple Man and take up teaching. Campos taught art at University of Manoa and later moved on to working as a stunt coordinator and storyboard artist. Two decades went by and this year Campos finally dusted off Pineapple Man and began to illustrate and create again. Working as a stay at home dad, Campos says,
"I do it for the love, not the money."
As one of Hawaii's few local comic books showcasing which showcases the Hawaiian culture, Pineapple Man is a local favorite.
Another local illustrator and comic book creator, Brian Makana Revell, was a featured booth at the event, who wrote and illustrated a new comic he just finished this year. About the end of the world and the rest of the human race lingers on a group of angels that were once man, now mortal along with mortal feelings of emotions and free will.
Brian's inspiration for his comic came to him in 2009, when his wife and daughter were killed in a car crash and Brian could not take it anymore.
"I felt lost", he said
He overdosed, and was clinically dead for 27 minutes when he finally came back to life.
"I nearly gave the mortician a heart attack when my leg moved by itself." Revell laughed.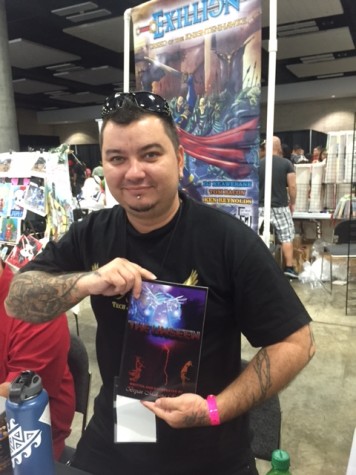 Revell wasn't fully functioning yet; they put him in a hospital bed where he was in a coma for four days. While under, he dreamt a vivid dream and later he told his family and illustrated, which turned into the comic called "The Unseen."
Wandering inside the main event area in the Convention Center was Sidney Okamoto, an enthusiastic man dressed head to toe in his accurate Ghostbuster's costume. Okamoto is a part of the Costumers Guild of Hawaii and the Ghostbusters, Hawaii Division. He spent around $900 making his costume from scratch.
"Last night my wife knew I couldn't sleep because I was too excited, she kept telling me to go to bed," Okamoto said.
He has been involved in costuming for eight years but has read comics ever since childhood.
Hard to miss Andrew Takai, A young man in his fiberglass and paper-mache costume of Gundam Unicorn, from the anime Mobile Suit Gundam Unicorn. Takai has been involved in comics since he was 14 years old and has a high interest in manga Japanese type comics,
"My favorite is Food Wars." he said excitedly.
He spent around $1,000 building his costume, and it took him over a year to build due to him making it too small first then having to adjust it.