Burgers and Burritos, the Best of Both Worlds
Burgers & Burritos Hawaii (BBBHI) features specialty burgers, all-beef bacon-wrapped hot dogs, fruit-infused lemonades, nachos, to an extended menu that offers a breakfast, seafood, and vegetarian options. It's the perfect place to satisfy your burger and Mexican food cravings. 
BBHI keeps it real and always uses local produce and grass-fed beef from the Big Island (Hawaii Island) and prepares homemade aioli and salsa for customers to enjoy. 
Many would be more familiar with their humble beginnings as "beyond burger" where they started as a food vendor under a tent at various local "Eat the street" locations from Kakaako, Kapolei, and Manoa. This includes farmer markets from the Blaisdell, Ward, Kailua, and many more.
I decided to try two burgers: the house burger and spicy guacamole bacon burger.
The house burger featured a 5 oz local grass-fed beef, with choice of american/cheddar/swiss/bleu cheese (I chose cheddar), onions, lettuce, tomato, and a homemade "1K" sauce.
The burger itself was massive. It was nearly too intimidating to attack.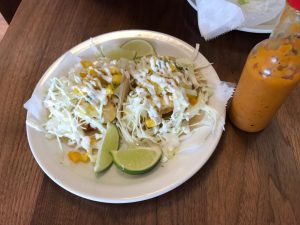 The meat itself had a leaner taste. This was my first time trying grass-fed beef. The "1K" sauce consisted of a tangy mustard infused mix with a hint of sweetness to balance the savory parts of the burger. It was the perfect balance of flavor. I did not feel bloated, compared to grain fed beef.
As for the second burger; the spicy guacamole bacon burger consisted of a thick 5 oz local grass feed patty that had a good char and smokey flavor to it. It had Swiss cheese, crispy bacon, guacamole, pineapple mango salsa, lettuce, roasted garlic aioli sauce and grain mustard.
I am not fond of sweet sauces/toppings combined with a burger but to my surprise it was really tasty. There was a perfect amount of sweet and savoriness that complemented the whole experience. The combination of the pineapple mango salsa paired well with the bacon while the roasted garlic aioli sauce and grain mustard sauce enhanced the flavor of the meat and cheese.
To top things off I also decided to try the fish and shrimp tacos. BBHI also offered free salsa from the salsa bar with several varieties. The seafood was prepared in a beer batter and deep fried to a crisp. It was loaded with shredded cabbage, diced mango, and papaya, topped with a sour cream drizzle with limes on the side. Overall it was very light and crispy but could have been better if the tacos had cilantro.
The interior of the shop holds a bar seating area with tables along the perimeter of the small hole in the wall restaurant. Minimalist light fixture hangs nicely along the ceiling of the shop, it's the perfect lunch getaway to from your typical everyday lunch at school in front of a computer screen.
Side note: BBHI allows customers to BYOB, with no corkage fee.
BBHI is located at 760 Kapahulu Ave. Although normal business hours offered, BBHI continues to participate in featured farmer markets event in the following:
Monday: 9 a.m. – 9 p.m.
Tuesday: 9 a.m.- 2 p.m. (KCC Farmers Market 4 p.m. – 7 p.m)
Wednesday: 9 a.m.- 2 p.m. (Blaisdell Center Farmers Market 4 p.m. – 7 p.m)
Thursday: 9 a.m.- 2 p.m. (Kailua Farmers Market 5 p.m. – 7:30 p.m.)
Friday: 9 a.m.- 9 p.m.
Saturday: 9 a.m.- 9 p.m.
Sunday: Closed
Be sure to follow and stay updated on their latest posts on Instagram at @burgersburitoshawaii.