Reasons Why People Oppose Netflix 'Atypical'
On August 17, the Netflix series "Atypical" was released with one season, containing eight episodes. The comedy show focuses on Sam Gardner (played by Keir Gilchrist), a teenager who is on the autism spectrum who expresses his interest of finding a girlfriend. After its release, the series has received backlash for misrepresenting people who have autism.
"Atypical's first episode features an entire scene devoted to Sam's headphones in a restaurant, but the audience is conditioned to laugh at him for it," Mickey Rowe, an actor with autism, wrote in a Teen Vogue feature criticizing the show. "How horrible if young autistic people watch this and feel ashamed for doing something that helps them to think and function in the world."
As for someone who is not on the autism spectrum, "Atypical" resonated with me because of its addicting humor and storyline. But since this Netflix series focuses on a topic that is rarely broadcasted positively in the media, it is important to note why some people who have autism would find it offensive or insensitive.
Stereotypical representation of autism
In the series, Sam is an awkward teenager who is focused on introducing love into his life.
Since Sam is a higher functioning autistic teenager, viewers feel that he gives into stereotypes with his lack of verbal communication and social skills. Although, in the show his awkwardness is emphasized by his outbursts of rude and unusual comments.
The first episode does a great job at showing that Sam is blunt and honest, even when it's not appropriate. During dinner with his family he blurts out, "Julia thinks that I should put myself out there and find someone to have sex with," Sam says with no hesitation. "She didn't say the sex part. I added that."
Usually sex isn't the first topic to be brought up at any family dinner, but Sam is different.
Gender-stereotyped roles
Jennifer Jason Leigh, who plays Sam's mom Elsa Gardner, uses her son as an excuse for her affair with a young bartender she meets in Episode 1. In the show Elsa camouflages self-love to justify her infidelity and for neglecting her family. Elsa portrayed herself as being dedicated to her family, and blames her son's autistic status for not being able to take care of herself which results to her affair. 
The audience gets a sense that Elsa is heavily involved in her son's life, especially now in his new interest of trying to find a girlfriend. But the show takes an odd and gender-stereotypical route, using the affair as justification for Elsa's infidelity because she barely gets to take care of herself.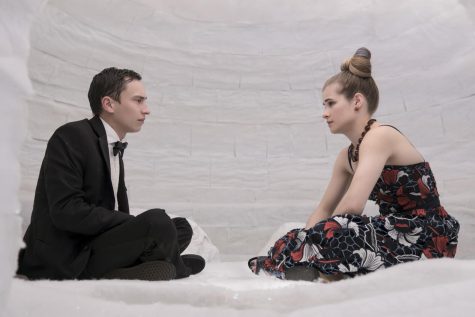 He's a neurotypical actor
Gilchrist, who plays Sam, is a neurotypical, meaning he is not on the autism spectrum, which angered viewers. A lot of viewers felt like an actor who had autism would've been a better fit, compared to someone who has had no experience with the disorder. 
In an interview with The Mighty, Jodi Murphy who has a child with autism, is one of the people who agrees. "I am a bit disappointed that Sam isn't played by an actor on the autism spectrum. There are many autistic individuals who are great actors and should be given the opportunity to audition and play such a role."
Sam is laughed at
In the series, Sam is at the center of most jokes. The series likes to poke fun at Sam, and usually he doesn't get the joke because he is literal. Viewers of the series find Sam being bullied as a bad representation for autistic people because they are represented as outcasts. The series relies on Sam to be the punchline and to other people with autism, that is dangerous.
"Nerds and geeks are one of television's most ingrained stereotypes and viewers without a connection to the world of autism might be tempted to just put Sam into that pigeonhole and think they understand a complex and vexing condition. The line between illuminating and trivializing is particularly thin here," Neil Genzlinger wrote for his review on New York Times.
Only focuses on high-functioning stereotypes
Parents who have kids with autism felt offended that only high-functioning autism was represented, since it is popular to talk about and is often subjected to stereotypes. Not every person with autism is high-functioning, and the audience expressed concern that different levels of autism should have been shown. Autism is divided into different levels, based on IQ thresholds or on how much support the individual requires in daily life.
He is a white actor
Autism is rarely represented in the media positively, so the show was a big deal for people on the spectrum but was a let down in the diversity department. Viewers were happy to see a Netflix series that discussed a difficult topic, but they were also disappointed that it lacked diversity and was represented by a white actor. Viewers wondered why a person of color was not chosen for a controversial topic.
Despite its backlash by some people on the autism spectrum, Netflix has announced "Atypical" will be returning for the second season with 10 episodes. The first season of the series has received a 4/5 rating on Common Sense Media, a 8.4/10 rating on IMDb and a 77% on Rotten Tomatoes.