Five reasons why Oahu is Zombie Proof
In each decade of history there is a hype for vampires, witches, werewolves and last but not least, zombies. The undead are fictional, animated perished human corpses that seek to consume living creatures, mainly humans, eating them dead or alive. Zombies are some of the more gruesome creatures in modern times. Gory and disturbing as they are, our fascination with them has incorporated itself into our daily entertainment. The soulles walking corpses have gained popularity with the films "World War Z", "Zombieland", "Pride Prejudice and Zombies" and of course the series of "The Walking Dead." As fictional as all these scenarios may seem, the Department of Defense has actually developed an emergency course of action in case a zombie apocalypse erupted. Though the details of the plan are yet to be given out to the public, in theory one of the best places to be in the world during a zombie apocalypse is Oahu.
We are an island!
Unlike the vast U.S. mainland, Oahu is 597 square miles surrounded by the Pacific Ocean, the largest ocean in the world. With the agreed theory by films such as "World War Z," and "The Walking Dead," zombies cannot swim. Oahu seem to be one of the better options as where one would like to be in order to avoid these gruesome being. Not only that, if you can find a good boat or even a kayak and you can wait  out a horde passing through certain areas.
597 Square Miles!
Due to its size and the fact that the largest city on Oahu is Honolulu, with a population 371,657, a zombie apocalypse in that area would be easier to manage compared to the 3.884 million people in Los Angeles. It would be easier to to clear certain areas of the island of zombies, because of its small population and the fact that most areas of Oahu – with the exception of Honolulu – are not too densely packed.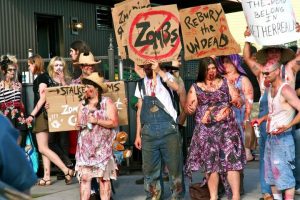 3.   Military Bases!
When preparing for a zombie apocalypse, one typically thinks of defending oneself. Luckily for Oahu, there are quite a few major military bases spread across the island: Kaneohe Marine Corps Base, Hickam Air Force Base, Pearl Harbor Navy Base, Schofield Barracks and Wheeler Air Force Base. Though they could be far for some island dwellers, other military bases include Fort Shafter, Kualoa Ranch and the US Coast Guard Base in Honolulu, where one could probably find some form of ammunition and weapons.
Fishing!
Though Oahu does have a boar population and quite a few chickens, fishing is much easier to pick up, you could toss a line into the ocean and you would at least catch one sardine-sized fish. This may not sound quite like a good reason to be on Oahu for a zombie apocalypse, but luckily for the inhabitants of Oahu, 72 percent of fish caught around the Hawaiian islands goes to the Honolulu Fish Auction, which means there are plenty of fish in the sea!
Climate!
Often times people forget that climate is a vital component to survival, especially when they picture themselves fighting off aggressive zombies. In this case, it could be a lifesaver. Luckily for people on Oahu, the weather allows for fruits and vegetables to grow year-round and the lowest temperature ever recorded was 52 degrees Fahrenheit, in January 1969. The typical lowest temperature is well between 65 degrees to 70 degrees.  
With all these components we can concur that Hawaii is a better place in order to survive a zombie apocalypse. Surrounded by fish filled water, with a small population density, with a large military presence, the warm island of Oahu can serve as a safe haven during the turmoil.