Unique burger joint with a fresh vibe
Franky Fresh is a funky burger joint with a '90s hip-hop vibe. The interior is dimly lit, and several flat screens play old-school rap videos. The menu is made up of delicious burgers, shakes, and sandwiches that are big enough to fill anyone's appetite. It is a place that is tailored to fit a college student's taste.
The food is phenomenal. The Heavy D is a massive buffalo chicken sandwich with buffalo chicken tenders, cheese sticks, and French fries, with additional toppings and sauces – the most delicious way to gain 10 pounds in one meal.
Franky Fresh also has amazing burgers. The Fresh Prince is a "classic" burger that is anything but. This filling burger is juicy and topped with Portobello mushrooms, bacon, Swiss cheese, grilled onion and special Franky Fresh sauce.
Beef patties aren't the only option on the menu. The Franky's OG Hawaiian features a ground pork/cilantro/onion patty. I am not the biggest fan of pork, but it was so well put together that I would order it again.
No need to fret if you avoid red meat. Franky Fresh also has a Portobello mushroom veggie burger and a sandwich with seared ahi.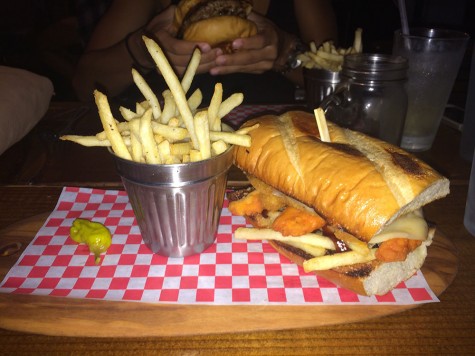 The burgers and sandwiches come with the choice of salad or French fries. If you decide to treat yourself to the French fries, you will have the option of an array of unique and delicious dipping sauces. The garlic aioli was by far the best option (but only if you are a garlic fan).
If you aren't already stuffed from your entrée, I would highly recommend trying one of the cereal-flavored milkshakes. They're big enough to share and come in fun flavors like Cap'n Crunch, Cinnamon Toast Crunch, and Trix. The Cinnamon Toast Crunch shake was a lot blander than I had anticipated. However, the Cap'n Crunch was mouthwatering. It was surprisingly sweeter than the Cinnamon Toast Crunch shake. Between the three of us, two shakes were more than enough.
Franky Fresh is conveniently located next to the Fat Greek on Waialae Avenue and St. Louis Drive – walking distance from Chaminade. The restaurant has been under construction for quite a while, and the anticipation was almost too much to bare.
One major disappointment came when we found out that there was a special taco burger that our server did not inform us of. I am unsure if Franky Fresh has regular special items, but I would recommend asking the server before you order.
To add to that, when it came time to pay, the credit card machine broke (we were told it happens often), and we were forced to go to an ATM, with few apologies, to pull out cash.
Aside from that, the food was so delicious I will be back.
Franky Fresh is the go-to spot for a unique burger that give you the most bang for your buck. Entrees range from $10-$15, but you will more than likely take home leftovers.