Honolulu's Second Annual Fashion Week
Fashion is the variable that always goes out of style no matter how hard you try to keep it, and the second annual Honolulu Fashion Week, held in the middle of November, clearly showed that.
The Convention Center was filled with fashion enthusiasts looking for the next trend. The show was hosted by Hawaiian Airlines with about 100 local vendors selling their work. It was free to the public, with optimal prime runway seating available for purchase.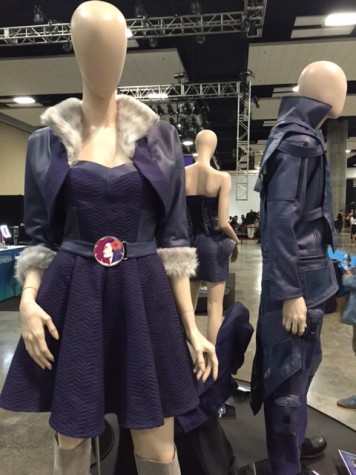 The runway section occupied one corner with rows of seating, while the opposite corner was filled with local vendors in a line of booths along the wall. A custom-painted Jaguar coupe car with a British flag airbrushed on it sat just inside the front doors. The few booths to the left were smaller donators to this event, and then in the center was the Hawaiian Airlines section. There where mannequins wearing high-couture fashion made out of the Hawaiian Airlines seat material. A bar was in the middle along with a chandelier above constructed out of luggage tags from all of the airline's flying destinations. Lights and sounds of enjoyment were all that could be heard in this convention hall everyone waiting for the next runway show to happen.
A few celebrities that showed up were Fern Mallis, who is the New York fashion week creator, and Emma Wo, the reigning Miss Hawai'i, model and fashion blogger. Harold Koda, the Metropolitan Museum of Art's Costume Institute curator, several international designers and a few popular models attended as well.
Among the local vendors was Chari Cuthbert, owner and founder of BYCHARI, an island-inspired jewelry line. This was her first fashion show she has attended. Cuthbert, who is originally from Jamaica, started her jewelry line three years ago she moved to Hawaii four years ago.
"It started as a hobby," Cuthbert said. "It was a labor of love and now I made it my career."
Cuthbert has been making jewelry for about five years, self-taught and is looking forward to seeing how she can grow her company more and more. Her customers range from Australia, Japan, local Hawaiian Islands and the mainland. Due to social media, Cuthbert is growing her loyal customers across the world.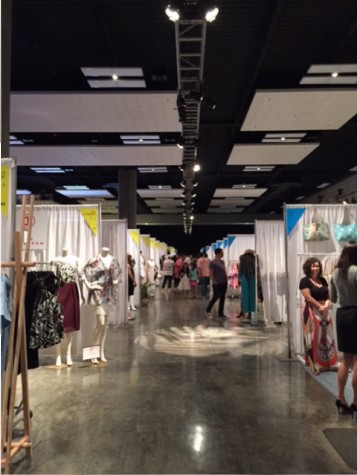 Her collection is divided into three lines: the Isla collection are all things island-inspired with aloha name plates and basic bar necklaces, the Fine collection consists of 14k gold and diamond pieces, and the Custom line are custom name plates.
Another attendee was 16-year-old Katelyn Kesinger, who has been modeling locally for about a year and just recently got signed with Kathy Muller Talent & Modeling Agency. This was her first time at Honolulu Fashion Week, but she has modeled at about 10 runway shows before for local designers in Hawai'i.
"The people and the art of it is really amazing," she said. "It's like a big happy family when we all get together."
The Hawaiian Airlines fashion show consisted of five designers who were from locations that Hawaiian Airlines had direct flights to: Yukimi Kawashima from Japan, Kym Ellery from Australia, Kaypee Soh from Oahu, Lie Sang Bong from Korea, and Todd Snyder from New York. Each collection that hit this runway was unique in its own way. Snyder's was all-masculine apparel featuring suits, jeans and sweatshirts. Soh's line was filled with color and patterns, and Kym Ellery's collection was full of feminine outfits with a masculine edge. Sang Bong had extremely bold patterns with intricately constructed bodices for his floor-length gowns, and Kawashima's line that was edgy chic with many textures and patterns in one outfit that will intrigue you enough to look twice at each outfit.
Next year's Fashion Week is scheduled for Nov. 20-22, 2016.