Alumna Jackie Martinez made her way back to Chaminade as she and others from the community came together to participate in CUH's Campus Open Marketplace on Wednesday. 
The Open Marketplace, featuring nearly 20 businesses, was open to the public and encouraged students, faculty, staff, retired faculty, alumni, friends and families to sell their homemade crafts, products, food, and more to promote sustainability on campus. 
"It was really nice to not only see people, but to have something to bring back and offer to the campus after being a student here for four years," said Jackie Martinez who graduated this spring. "It feels like a full circle moment, and I'm especially happy that the business is centered around something I really enjoy doing."
Alongside Jackie Martinez, Chaminade's student athlete Dallas Martinez also helps run the business, known as Hoarder House. 
Hoarder House is a thrift and consignment company that buys secondhand clothes and resells them through Instagram. Both Jackie and Dallas Martinez (who are not related) travel across the island to different thrift stores, swap meets, garage sales and vendor markets to collect and curate its inventory.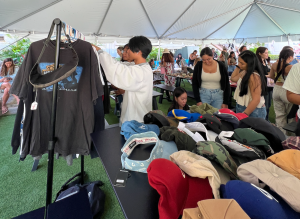 The business' collection has grown over the past few years due to their shared interest in thrifting clothes and recently went online for people to purchase in October. 
"The both of us just love thrifting, but most of the things we find either don't fit us or aren't our style," Jackie Martinez said. "We've seen a bunch of people who have the same lifestyle flip it into a business, and Dallas has always wanted to resell the things she finds, so once I came in with the skillset to bring it to life the rest just flowed."
Participating in the Campus' Open Marketplace has expanded Hoarder House's exposure to people outside of Jackie and Dallas Martinez's friends. With the business opening its collection to peers, it helped build their network to other collectors and resellers. 
When it comes to Hoarder House, Dallas Martinez already has a packed schedule with basketball but she found that at times, thrifting can be an escape to it all.
"Being a student athlete is already tough in general because we have no time and we're always tired but running a business is a type of getaway or a relaxing agent for me, so I really enjoy it," said Dallas Martinez, a senior point guard for the Chaminade's women's basketball team. 
According to Malia Wong, a senior lecturer who coordinated the marketplace, the Campus Open Marketplace began in preparation for the CIFAL meeting that occurred last December. The annual conference was being held at Chaminade, hosting guests from the United Nations. Wanting to give gift bags, Wong suggested that instead of buying things, they should instead have a campus-made, campus-inspired gift bag from numerous small sustainable businesses on campus. 
The Open Marketplace was such a big hit that Chaminade decided to have it once every semester.
"I want it to keep growing as long as it serves the community but specifically, one that brings the whole Chaminade community together," Wong said.
While shopping for trinkets there were a few non-Chaminade based food vendors such as Dragon Boy and One Love Surf Shop who made an appearance for any empty shopper's stomach.  
If you missed the opportunity to showcase your creative talent and/or would like more information regarding the Open Marketplace, contact Malia Wong by email at [email protected].