CUH Open Marketplace Supports Small Businesses, Sustainability
On Tuesday, Chaminade hosted the CUH Fall Open Marketplace. From 11 a.m. to 1:30 p.m., students and the community gathered with the goal of promoting a sustainable campus. 
Students were welcomed to sell crafts, products, food and more to the community. The idea behind this event is to encourage students to get creative and instill business ideas that will help them in their future. The students got to collect and keep all profits they made and can now sell their products in the Chaminade bookstore.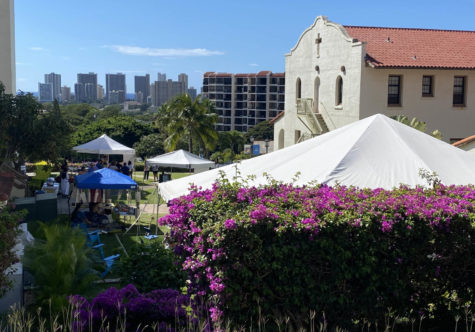 The CUH Fall Open Marketplace began with a grant received from the Center for Teaching and Learning for putting together a "Campus Made; Campus Inspired" gift bag for CIFAL Honolulu United Nations Global Meeting guests who will be arriving on campus next week. The objective was to promote campus sustainability.
This taught future entrepreneurs the practice of making and selling their goods with purpose and to a supportive community. 
With Christmas around the corner there were many chances to get your hands on "campus made and campus inspired" gifts that were upcycled. In Hawaii especially, preserving the environment is important to maintain the island's beauty. Many vendors were promoting this in their products. 
There were 21 vendors that included students, parents of students, faculty, and local businesses. These vendors were greeted with over 200 community shoppers looking to support, according to Malia Wong, a senior lecturer who facilitated the marketplace. 
"The Fall Open Marketplace was unique in that it was the first ever event on campus that involved all of the Chaminade ohana and those currently involved and those with past connections together," said Wong, who teaches in the department of Religious Studies. "The event is up for any department to take over. Until then, Campus Ministry and I are thinking of a possible night market (open to the public) in the spring."
A spotlight tent that was drawing a lot of attraction was "Kuaʻāina Creations."Kuaʻāina is run by Chaminade sophomores Loke K. Yokoyama and Bella Frasure and junior Ka'i'inipu'uwai Keliihoomalu-Holz.
"We are three women attending Chaminade University who want to help you embrace Hawaiian culture," Yokoyama said.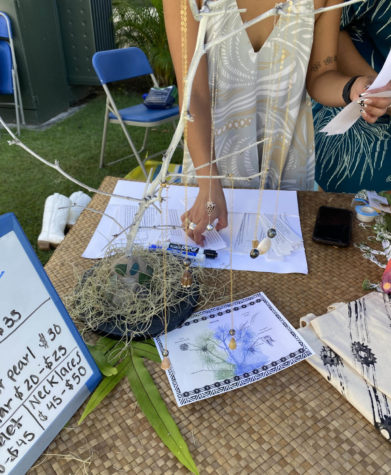 Kuaʻāina means back country or backbone and pertains to those who actively live Hawaiian culture and keep the spirit of the land alive. The owners aim to do their part by representing Hawaii in their products.
Visitors could purchase a beautiful selection of earrings, necklaces and tote bags from the stand. Kuaʻāina Creations uses the Hawaiian cultural practices of Lauhia weaving and 'ohe kapala printing in the products. The lauhala earrings are woven by hand from the district of Puna on the Big Island, known for its cultural significance. The tote bags are printed by hand and each has a Hawaiian meaning behind the design. 
"This business is important to me because it allows me to express myself through art and strengthen my connection to my culture, enriching my mana," Yokoyama said. 
Follow @kuaainacreations on Instagram to view products and follow their small business journey.
While shopping for gifts there were many food vendors there ready to cure an empty shopper's stomach. Features like Luau Bombs, Dragon Boy, and Puchie's Shave Ice made an appearance. 
If you missed the opportunity to showcase your creative talent and desire for business, contact Malia Wong by email @[email protected] for more information.