CUH's Fall Dance Supports Wallyhouse Organization
On Thursday night, Chaminade students gathered at Sullivan Family Library Lawn as CUH's Office of Student Activities and Leadership and Resident Hall Association presented the first-ever fall dance to help collect donations for the Wallyhouse Organization.
Located in Kalihi-Palama, the Wallyhouse Organization is one of around 200 Catholic worker hospitality houses in the country that help their community neighbors who don't have enough food or are having a hard time getting by. The organization provides support for homeless people with hot meals twice a week, a food pantry, donated clothes, toiletries, and a place to charge devices.
"It means a lot to us that Chaminade chose our organization because we're just people trying to do what we can and to help other people," said Janie Stein, Wallyhouse Organization resident manager. "We can use all the support we can get."
Students were able to contribute to the Wallyhouse Organization by donating four items ranging anywhere from toothbrushes to clothes in order to receive a free meal ticket.
"Everybody probably has something they're not using so bringing donations for a meal ticket was a good way to give to people who not only will use it but need it." said Sano Tanna, a first-year Environmental Science major.
OSAL's Social and Multimedia Specialist Alexander Hernandez needed to plan a civic engagement and community outreach event, and since the RHA wanted to host a dance, Hernandez thought it would be the perfect opportunity to collaborate with RHA to do a fall dance.
Hernandez thought by incorporating a donation, it would help achieve his civic engagement and community outreach event. When looking for an organization, he was suggested the Wallyhouse Organization by OSAL's main supervisor, Andrew Ancheta. Hernandez said Ancheta previously worked with the group. Plus the organization needed donations as well.
With the help of OSAL's equipment and joint funds, RHA was able to organize the fall dance. However, the dance's participation count was low. While Hernandez did a lot of promoting for this event, with roughly only 30 students who attended, the count expectation was not met.
"I think the dance is going well, I promoted this event a lot through social media and my residents," Hernandez said. "I was expecting a bigger turnout but other than that I'm still very happy with how this event is going."
While the dance was a hit, even students took notice of the number of attendants.
"It was really fun, I was really sad that not many people came but it was a good organization we gave to." said Isabella Frasure, a sophomore majoring in Communications.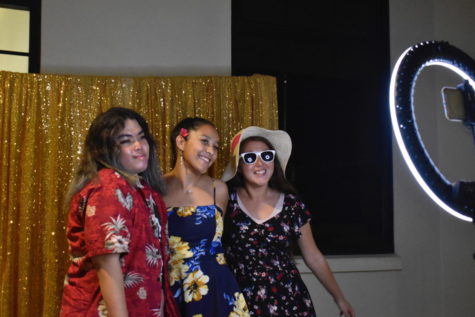 But at the end of the night, everybody was on their feet dancing and enjoying the company of one another. A photo booth was offered to help capture their experience, and students took turns as the event started coming to an end.
"There's not as many people here as I expected but it was still really fun and basically if you showed up, you'd be dancing and having a good time which is all that matters, to make memories." Tanna said. "If Chaminade decided to do another dance, I honestly would go and bring more people to come."