Taotao Marianas Club Commences In-Person PIR
On Monday evening, Chaminade's Taotao Marianas Club, which is dedicated to the culture of the Mariana Islands, opened this year's Pacific Island Review with a blessing ceremony and solo dance performance by the club president Adora Erguiza. Approximately 35 members of the campus community sat under the string lights of the Sullivan Library Lawn.
The night began with an introduction to this week's festivities by the Office of Student Activities and Leadership (OSAL) director, Joseph Granado, then an opening address by the Speaker of the House, Erguiza, who is in charge of planning Pacific Island Review. Taotao Marianas showcased two live performances by the three club officers Erguiza, Jackie Martinez, and Emily Ramirez. The dances included the Bendision, or a traditional blessing in Chamorro culture, and "Tuhu I Lago-Hu", a Chuukese song tribute. In closing, Erguiza taught the audience basic Chamorro words and phrases.
This is the first year of fully in-person performances at Pacific Island Review since 2019 as last October's performances were partially in-person and virtual due to Covid-19.
"I honestly missed performing here at Sullivan on the grass," Erguiza said after. "It's so much more authentic and genuine and it really feels like we're back home when we're out here. The wind is blowing. We see people. And we really wanted to bring everything full circle by bringing it back here where it all started."
Pacific Island Review, or commonly known as PIR, is a weeklong event for students and faculty to learn about, engage in, and celebrate the Pacific Islander clubs that exist on campus. Prior to Covid-19, PIR was a one-night event open to the public where Pacific Islander clubs held live performances and dressed in traditional attire. Due to social distancing protocols, PIR has shifted to a Monday-to-Friday event where each club is designated a day to hold activities such as games, food distributions, and live performances.
"I generally like the feeling of a week because then I feel every club gets their due day and time, and we have more time to promote," said House Speaker Erguiza. "Some clubs have more time to plan things, and I think it's just a really beautiful night where people can come and support. There's different things that the clubs wanna do versus having it all in one night where it usually sticks to live performances. With having things in a week, we can open up new opportunities like cooking demonstrations, raffles, for games, for language opportunities as well."
During the opening blessing, the music cut in the middle of the chant. Without hesitation, Martinez, Taotao Mariana's public relations officer, continued singing and dancing and the other performers chimed in.
"The Bendision is a super respected and honorable chant that we do on Guam and so it kinda felt like not continuing it and not completing the entire thing would be disrespectful, not only to the Chamorros here but to the ancestors we're trying to call upon in the first place," Martinez, a third-year, said. "If we left the song open-ended, then the entire blessing wouldn't have as much meaning if it wasn't concluded."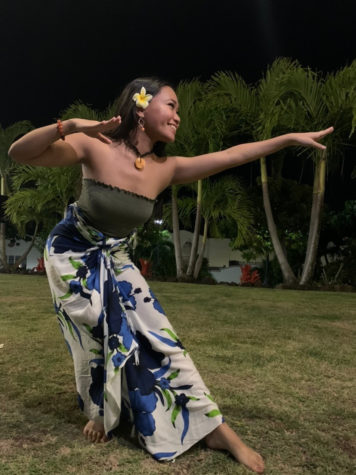 Erguiza, a fourth-year student, has been planning PIR for over a month and for the past two weeks has been working closely with her officers on finer details such as costumes and budgets. Along with preparation, the club president choreographed and practiced her routine for about two and a half weeks. She attributed her solo dance to those who have felt loss during the pandemic.
"It's nerve racking, I'm not gonna lie," said Erguiza, who is from the village of Malesso in Guam. "I get that adrenaline rush and I love it because I know I'm doing it for my culture and I know this is a time when I can really get people's attention and touch their hearts and make them realize … this is a moment I'm trying to share this with all of you right now."
Kelsey Felkley, who is majoring in Elementary Education and minoring in Asian and Pacific Studies, resonated with Taotao Mariana's event because she lived on Guam from nine to 11. The freshman transfer has moved around most of her life, unable to call any specific place "home" because she is the daughter of a military personnel. This was Felkley's first PIR and she plans to attend other events throughout the week.
"It brought back a lot of memories … we used to go to the Chamorro village every Wednesday," the freshman said.
On Wednesday Kalapu Tonga will be holding a live performance and distributing food to attendees from 12:30 p.m. to 1:30 p.m. at the Sullivan Library Lawn. Additionally, The Lumanaʻi of Samoa will have live entertainment, a fashion show, and games at 6 p.m on the lawn as well.
"To be Pacific Islander is a part of my identity," Erguiza said. "It's just one of those things that you can't change about yourself but it's such an integral part of your identity as a person. And it really just depends on what avenues you take in knowing your roots, your knowledge that you've gained over the years, your experiences and how you bring that and share that with others all around you. Being Pacific Islander also means being the future. Being Pacific Islander also means being an ancestor to the future generations. So whatever you do in the present, that carries on with you in your bloodline in whoever's lives you touch with the moments that you have, the teaching experiences that you give, and just, you know, being together, and being like a community, which is a very big value in Pacific Islander culture."