CUH's 1st Covid Coordinator a 'Hub' For People With Questions
On Aug. 24, Chaminade University welcomed Jessica Garlock, the first Covid-19 coordinator, who has implemented a vaccination or test weekly program.
The on-campus Covid-19 testing is held Tuesdays and Thursdays in Tredtin Hall – between the mail room and the Silversword Café, from 12 p.m. to 4 p.m. Tests are available to walk-ins, but an appointment is preferred; you can schedule an appointment here. The tests that are administrated are rapid tests, allowing students and employees to have their results with in 20 minutes.
While testing is primarily open for students who are not vaccinated, vaccinated students and employees are encouraged to get tested if they have come in contact with someone who has tested positive or are exhibiting symptoms.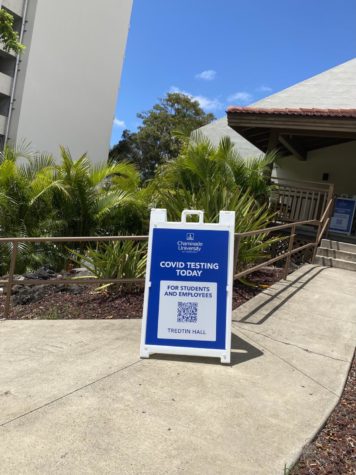 "I am the hub for information for people that have questions, whether it is because they have tested positive or if someone has come in contact with someone who has tested positive," Garlock said. "I have talked to some folks about testing options about where they can get vaccinated if they are not already as well as coordinating some the administrative tracking that we are doing already around vaccinations and weekly testing."
Students were supposed to submit their vaccination cards by Sept. 1 in order to be exempt from weekly testing, but they can still submit their card if they have yet to do so. Garlock understands that testing weekly is "not very fun," and therefore, will be accepting vaccination cards all year.
According to Chaminade University, 85% of the students and 96% of the employees are fully vaccinated as of Friday. Of the members of the Chaminade community who are not vaccinated, 90% of the students and 99% of the employees are compliant with the weekly testing program. In addition, there have been  four total positive cases on campus – two positive cases among the students and two positive cases among the employees – in the past seven days.
Prior to working at Chaminade, Garlock helped Hawaii Pacific University transition into a safe campus when the pandemic first hit. She looks forward to keeping the Chaminade campus safe and healthy, and "hopes" that the university won't have to get back online.
"At HPU I was a faculty member with social work, I ran their practicum internship program and then also taught," Garlock said. "When Covid hit I had to work with all of the students and all of my community agencies to help navigate that initial process."
Now, on campus she works closely with the head of Human Resources and the Dean of Students. She is eager to get to know the students on a personal level, versus just by contract tracing or asking where their vaccine or testing cards are. In an attempt to reach more of the student body, she created an Instagram to provide another place for Covid-19 updates on for students.
If you have any questions, Garlock would love to hear from you. You can reach out her through her email ([email protected]) or her cell phone (808) 726-9080 with any questions.