KCC Farmer Market Returns With Support of Locals, Safer Guidelines
It has been eight months since the Kapiolani Community College famers market has been in business. After closing the weekly event in March due to the Covid-19 pandemic, many farmers and locals alike have greatly missed each other's community and support.
This past Saturday, Nov 14, was the first time the event was reopened to the public, but this time with strict mask enforcements and strong recommendations on social distancing. Another important guideline to note is that food or drinks are not allowed to be consumed while on the market grounds; all goods purchased must be made to-go. 
"I think it's risky to bring back such a large and popular farmers market and some may find it a bad idea," said Makiki resident Mika Souza. "But I think it's important to realize that these vendors have probably been going through a rough time during the pandemic and this is a great time to support them."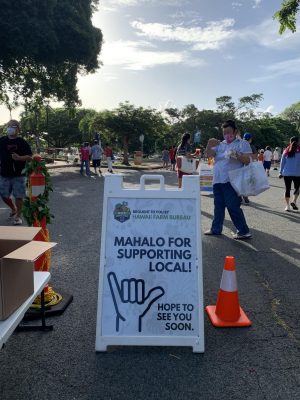 Upon arrival shoppers will enter the market grounds via a few different entry points where they are welcomed by staff employees and police officers. The officers and staff members wearing reflective vests are in charge of making sure all market guests are following the mask mandate. Near each entrance was a sanitizer dispenser to give guests the option to sanitize their hands before touching different products from the variety of vendors. Although social distancing was strongly recommended, it was visually ignored due to the large numbers of people coming out to support their local community. 
After walking past the crowded vendors of the market, market-goers took the mask mandate seriously. No one was seen without a mask. With a noticeable amount of tourists absent, this gave the local community a chance to step up and support their community. As Honolulu has gone back and forth with store openings and closings, so the reopening of this market was a big deal to many, including Kaimuki native Leiana Nagamine. 
"I have lived in Kaimuki for over 30 years now, so this place [KCC Farmers Market] has always been fun to take the family," Nagamine said. "One concern I did have was the safety of this event and whether or not an older woman like me should go, but Kaimuki has been good to me so I liked to come and buy fresh produce when I can." 
Fresh produce could be found in large quantities thanks to the 60 farmers and vendors that came to gain support from the local community. There were many vendors selling local goods including honey, poi, ube, coffee beverages, as well as a musician providing live music. 
Kim Falinski is the owner and a beekeeper at Nalo Meli Honey, a honey company based in Waimanalo. She was both excited and relieved to be back selling her product at the KCC farmers market. While the KCC market has been closed, Falinski has been a busy bee completing phone orders, home deliveries, as well as trips to Kailua for the evening markets on Thursdays. 
"It's been great to have KCC back as an option," Falinski said. "I love the support that goes on here because without this going on, I've been going over to Kaka'ako for their farmers market, but it's pretty much two trips for every one trip to KCC, so I'm grateful to have it back. And I guess we will see how it goes for next week." 
The KCC farmers market is open Saturdays from 7:30 a.m.-11:30 a.m. at 4303 Diamond Head Road in the upper campus parking lot across from the Diamond Head Theater.