The Show Must Go On: CUH Performing Arts to Host Virtual Play
For the first time in Chaminade University of Honolulu's performing arts history, the fall performance will be a streamed event brought to the audience in the comforts of their own homes due to the severity of the pandemic.
Chris Patrinos, the new CUH Performing Arts Director and Assistant Professor of Performing Arts, chose to execute his first production, "The Virtue in Propaganda," as a live-streamed event because of the current pandemic circumstances and the inability to social distance cast members on stage during a live play, along with the audience watching the play.
"Given our current pandemic circumstances assembling cast members in close proximity to one another without PPE is not an option," Patrinos said. "Utilizing PPE during our performance would compromise our ability to tell a clear and effective story. Assembling a live audience right now is just not possible. The safety of our students and community is of the utmost importance and presenting virtually is our best option."
"The Virtue in Propaganda" portrays a woman living in 1974 Saigon who adopts a young "lai" (half Vietnamese, half Caucasian). As an outcast, the young girl must learn how to adapt to her surroundings of racial prejudice while overcoming her battles with society, culture, and family ties while trying to survive a time of war and political conflict within her village. The play will run for two weeks starting from Thursday to Saturday (Oct. 15, 16, 17) into next week Thursday to Saturday (Oct. 22, 23, 24) at 7:30 p.m.
Audition, rehearsals, and the performance (which will be live-streamed) will all conducted through Zoom, allowing each actor to perform in the safety of their own personal space. Nonetheless, the safest option of completing the play via video chat boxes can result in some challenges, such as internet lag.
"One of the main challenges that we had while making this play was the internet connection since everyone in the show is scattered across the island with different types of internet speeds," said Kainoa Enos, a senior Communication major, who plays Thầy Quyền, a Vietnamese high school teacher who is the "antagonist" of the play. "It can be difficult to respond to a line. There are times where my character gets cut off mid-sentence but with the internet troubles from the other actor, I found myself having to ad-lib a whole sentence waiting for them to cut me off. There were some scenes where the response needed to be given as soon as the previous line was delivered but then you have a dead silence of five to 10 seconds before we get a response."
For 'Aulani Oka, a senior Environmental Studies and Environmental Science major, her greatest challenge was not being able to feed off of other cast members' energy as she would be performing an in-person play.
"For me, I never saw the other people's [cast members] faces," said Oka, who plays "Tién," the mother of the main character in the play. "So it's really just trying to get yourself into the character, simply through words. It's really weird because you can't see other people's reactions and sometimes your reaction time is off due to lag. Not my most favorite, but for a time like this it was really nice."
Despite the virtual challenges, CUH Performing Arts looks forward to producing this first-time virtual play as it does not compare to anything in the past.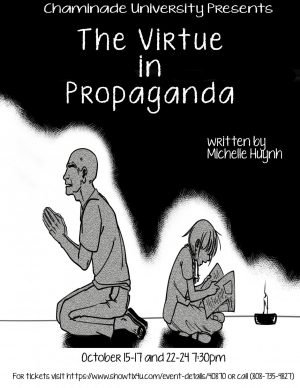 "Other than the fact that it was all done virtually, I would have to say the format of this play is something that we wouldn't be able to do in-person," Enos said. "This is a play that is in the theme of a graphic novel. That graphic novel part is really important to keep in mind while you go into this show because that's where the magic is."
"Theater is more than entertainment," Patrinos said. "It's about effective storytelling. It's about problem-solving. You can't be a pessimist, you need to embrace the situation in front of you [Covid-19] and make the most of it. Once the cast bought into the plan, I knew we were going to succeed. The show must go on."
Tickets to view the stream are free and accessible to watch on up to 20 devices. For tickets to the streamed event, click here for more information.