ENC Teaches Students How Love Is In Action
On Friday Dec. 1 , E.N.C. (Every Nation Campus) organized a youth outreach event at the T.C. Ching Conference Center, from 12:30 – 1:30 p.m., to show students what a grace group is like. 
E.N.C. is a worldwide organization of campus ministries and in the Fall semester of 2017 it became a campus club at Chaminade University.
A grace group consists of a small amount of people that gather together every week to discuss what is going on in each other's lives. 
Shayne Sabugo, a 24-year-old nursing major from Ewa, is the vice president and emphasizes on how important it is for her to get to know other people on a deep level. 
"What I'm trying to do on campus is to just be able to build small groups, so people have someone to lean on," Sabugo said. "I just try to build meaningful relationships with others."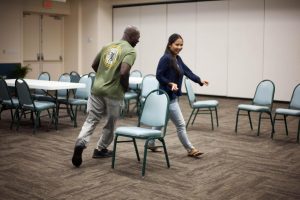 The event started off with musical chairs. Since there were only six players, the game was intimate and tense, causing all players to be on high alert to win the game.  
Richard Eltis, a 27-year-old psychology major from Florida, was the winner of the game.  
Although, along with the game there was a twist.  
The co-vice president Nashawna Smith, a 27-year-old junior double majoring in psychology and religious studies, told Eltis to stay in his seat while she taught him a lesson. 
On the projector, a PowerPoint slide displayed the Bible verse, John 3:16-18, that fit along with the club's theme, "Love Is In Action."  
"For God so loved the world that he gave his one and only Son, that whoever believes in him shall not perish but have eternal life. For God did not send his Son into the world to condemn the world, but to save the world through him. Whoever believes in him is not condemned, but whoever does not believe stands condemned already because they have not believed in the name of God's one and only Son." 
Smith continued to describe the significance of musical chairs to Eltis. 
"The point of musical chairs is that instead of competing for seats, Jesus came down and came off his seat so we can have a seat with him," Smith said. "He showed how love in action."  
Smith then gave Eltis three $10 gift cards to Amazon and Starbucks. To enforce the theme of the event, Eltis had to keep one gift card for himself and give away the other two.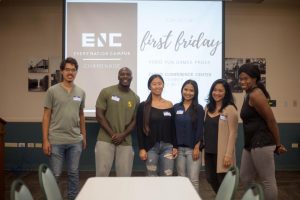 After musical chairs, everyone gathered around a table while Smith and Sabugo prompted the group with a discussion question. 
"So to emphasize what a grace group is like, I will start off with a simple and easy question," Sabugo said. "Who is someone in your life that has gone out of their way to help you?" 
Eltis told the group about a man who took him under his wing and taught him everything he knew.  
"I didn't have a father figure in my life and my bestfriend's dad [Daniel] ended up taking me under his wing," Eltis said. "I mean, I still had a mom and a stepdad. No one really taught me those foundations of being a man and things in that nature. He had a business and let me work for him. We'd hang out, I'd go church, youth group, and camp. You know, all these different opportunities I never had. And still to this day, 10 years later, I still appreciate Daniel for what he's done. " 
Eltis still calls Daniel every chance he gets, especially during holidays.  
"I think he's one of the people who I'll always admire in my life, no matter where I'll go," Eltis said. 
Brandon Hong, a 20-year-old business major, opened up and revealed a story about his health. 
"Mine would have to be my youth coordinator at my high school," Hong said. "I was at this event he was hosting and I had a lung collapse. At the hospital, they said my lungs could close up naturally or I'm gonna have to get surgery." 
Since Hong grew up in a religious family, they prayed for health to improve naturally. Although in his case, Hong had to get surgery. 
"My parents were saying, 'OK, we're gonna pray. God's gonna make a story out of this,'" Hong said. "But it didn't close naturally after two weeks, so they decided I need to get surgery. The night before the surgery, he showed up at my door, sat down and talked with me and he prayed for me and said, 'You know what happens tomorrow and you'll be fine.' I felt really comforted with that and he lightened the mood. He was a big support in that time."  
Sabugo concluded the event by repeating that the intent of the youth outreach event was to educate students about grace groups. 
"A grace group is being able to share stuff," Sabugo said. "In that little amount of time, we were able to know each other a whole lot. It's just a feeling of refreshment after going into group, because some would go into group feeling stressed. Then they would come out of group, forgetting that they were even feeling that way to begin with." 
E.N.C. is a club that started in the beginning of this semester, with a number of eight members in the club, with a goal to reach out to others regardless of religious affiliation. There are eight members of the club that meet every Wednesday for prayer discussion in Hale Malia and on Friday for grace group, at 12:30 – 1:30 p.m. underneath the tent near the Sullivan Family library. For this semester, E.N.C. has held youth outreach events underneath the tents near the Courtyard Cafe in Henry Hall.