Comm Club Cleans Up Waimanalo Beach
The Communications Club has been on a roll since its first meeting on Oct. 6. The club hosted Munchie Mania on Oct. 13. While the club enjoyed the food, games and prizes, it was time to now give back and help its beloved island through a service-learning project.
On Saturday, Oct. 28, 14 members of the Communications Club showed up at Waimanalo Beach Park to clean up the beach by getting rid of debris and litter. However, Waimanalo Beach was not the Comm Clubs first choice.
"Everyone in the club suggested to do a beach nearby school like Waikiki, Kaimanas, or Walls," said senior and club officer Kim Barroga. "But through research, many organizations and Waikiki board committees do monthly cleanups there. I was was more concerned about other beaches outside the Kaimuki community, so [we] picked Waimanalo Beach."
Twelve large, heavy-duty, 13-gallon trash bags were filled to the brim and was hauled away. Everything ended just in time, because the dark clouds started to roll in and the rain began to pour down.
The beauty about the beach clean-up is that people came that were not apart of the Communications Club. And some people participated that were students from a different university.
"Never before have I seen a club come together with such happiness in their hearts to serve," said Reggie Acoba, a student from Hawaii Pacific University who came to lend a helping hand and was told about the event through one of the Communication Club officers. "There was food and laughter and time to even break away and enjoy the ocean. The locals were so grateful to us. And that made me feel like I did something really good."
The weather was warm and the skies were clear. The water was rough, but was as blue as the sky above it. Tents were set up and Rabbit Island was in clear view. Everyone grabbed their gloves and 13-gallon trash bags and began to pick up whatever trash they came across. While cleaning up the beach, the locals expressed just how appreciative they were.
The local lifeguards on duty thanked everyone and started engaging in conversation about the communications club. They even allowed us to back up Kim's pick-up truck onto the grass so we could haul the trash over to the nearby dumping facility. The locals who were at the beach park for a Keiki baseball league thanked everyone and promised to pick up the trash in the area they were set up at.
"Waimanalo is my home," Barroga said. "It is very beautiful and the locals who live in the area clean-up the beach whenever they can with no group/organization. But it's frustrating to see that many visitors neglect it by not cleaning up after themselves. So I decided to help out my community by bringing the comm club over to help."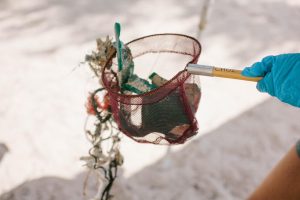 Professor Carolyn Kuriyama, Professor Eva Washburn-Repollo and Dr. Clifford Bieberly were there to not only lend a helping hand but to feed everyone as well. Dr. Bieberly was flipping burgers and grilling hot dogs for the students who had built up an appetite from all of the cleaning.
Hotdogs and hamburgers were served and everyone took a break to enjoy the food that was prepared. From jumping in the waves to laying out in the sun and even a water balloon toss, students and faculty who attended the beach clean-up were extremely happy with the results of their efforts. Lunch was eaten under two huge tents that were set up and Pandora was playing as everyone munched on the food that was grilled up for them.