Mini Anime Convention Encourages Artists to Embrace Their Passion
This year marked the 2nd time the NEET Honolulu convention has been here in Hawaii. NEET Honolulu is a market place event with a focus on Japanese culture and entertainment like anime and manga. Many different vendors and artists gathered at this event to show off and sell their work. For such a small event the turnout was massive. The entire fifth floor of the Japanese Convention Center was packed with people browsing and buying the plethora of art and collectables available to them.
In Japan, the word "NEET" is an acronym for "Not Employed, Educated, or in Training." It's commonly used in a derogatory term and is usual something one wants to avoid being called, but the creators of NEET Honolulu wanted to take the word in a different direction. As it says on the NEET Honolulu main website, "We chose this word because it's a reflection of what we are. People who aren't in school and taking a different route to accomplish their dreams of living off our craft."
The entire event took place on just a single floor of the Japanese Cultural Center, on the fifth floor in the Manoa Grand Ball Room. Similar to another anime focused convention here in Hawaii, KawaiiCon, just much smaller. While KawaiiCon took place in the Hawaii Convention Center and had a much broader focus that ranged from anime and manga, to video games, to vendors from around world, NEET Honolulu centered around local artist and vendors from right here in Hawaii. Having a much smaller convention brings a lot more focus to each of the local vendors there, and with only a $7 entry fee it's much more affordable than KawaiiCon's $40.
A lot of local hobby and collectables shops had large booths at the convention, such as Mini Q Hawaii, Hakubundo Inc., and Animeya and Collectables. Each one sold a large variety of japanese figures, plastic models, toys, and many other types of collectable items anime and manga fans seek after.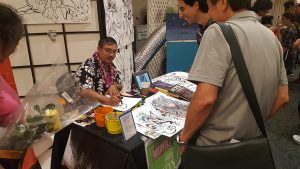 Local artist Andy Lee even had his own booth in the main show room. Lee is a well-known artist born in Hong Kong and raised in Honolulu. He specializes in zen style splash paintings and live painting events. At his booth he was taking requests from the event attendees and would create beautiful works of art in just minutes. His work has been published by both Marvel and DC comics and he has even had a few of his paintings featured at the Honolulu Art Museum.
For someone looking to get in on the anime convention scene or for anyone that has an interest in Japanese entertainment then NEET Honolulu is a great place to start. They will be having there their next event in the summer of 2018. For more information on next year's event visit http://neethonolulu.com/index.html