Communications Club Revives Itself Through Munchie Mania
After the Communications Club held its first official meeting on Friday, Oct. 6. The club decided to kick off its first event on Friday, Oct. 13. Munchie Mania got students and professors to interact with one another, while also filling everyone's bellies with McDonald's, Taco Bell, Pizza Hut, and even an ice cream self-serve bar. 
"Being a part of a club outside of my major, it was well planned out and I liked the icebreaker," said Brandon Hong, a 20-year-old in his second year as a business major as he munched on a bowl filled with gummy bears. "I wish to see people come and enjoy their time since that is what events are meant for."
Games like icebreaker and fishbowl quickly got everyone's blood flowing. Students rapidly learned the names of their peers that they pass every day on campus, but never thought to engage in conversation with. One student stood in the middle of a huge circle holding an inflatable pickle while trying to gently hit the person whose name is called out by another student. Everyone laughed and jumped with anxiousness as the large inflatable pickle invaded their personal space.
Cayla Martin, a third-year marketing communications major, was invited to the event by friends who are a part of the club and are executive members.  
"Being a comm major, [Comm Club advisor Carolyn] Kuriyama kept encouraging me to join comm club and when I heard about free food at the event, I knew I had to join," Martin said. "I hope to see more people our age interested in making connections and having a good time together."
Bingo got everyone engaged. Students gathered around tables that had bowls overflowing with gummy bears and Oreos, as they waited anxiously for the numbers to be called. Starbucks mugs and gift cards from Lanikai Juice, Chili's and Panda Express were given out to those that were able to yell "B-I-N-G-O" first.
The Communications Club had a rocky start this semester. Kuriyama had to revive the club and recruit members a quarter into the semester. At first, there was the fear that students were going to be too busy to show up. But 30 cheeseburgers, 30 tacos and 20 pizza boxes later, all of the efforts put into this event was worth it. Students invited friends of friends and the turn-out was amazing.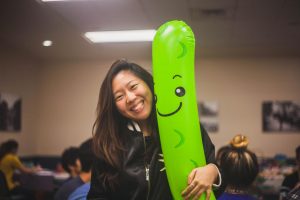 To add to the fun, there was a photo booth that with emoji props. To emphasize the munchie in Munchie Mania, there were also floaties in the shape of a pizza, a donut and a giant pickle that were perfect props for adding in a little extra humor to everyone's photos to capture the joy that filled the room in the Clarence T.C. Ching Conference Center in Eiben Hall. Friday the 13th is superstitiously known to be a day full of black cats and bad luck. However, it turned out to be a day filled with laughter and more than enough bear shaped gummies to go around.
Just a few days after the event, Kuriyama, the club's advisor, sent out a huge thank you email to everyone who showed up.
"It was a MUNCHIN' success!!! Every guest I spoke to said they had a great time! We added new members, made new friends, learned new games, ate our fill of favorite munchies. What I really loved was seeing all of you working so hard TOGETHER to ensure our success–from a transformative setup to a spotless cleanup, from giving a myriad of game instructions to taking photos of winners and posers, from smiling and laughing to lightness and cool–people simply enjoyed the camaraderie of being students at Chaminade. You all made it a magical munchie mania! Mahalo! A big hug to all!"