Maui Goes Polystyrene Foam Free
The Maui County Council unanimously passed a bill to ban the sale and use of polystyrene foam containers, a staple "Plate Lunch" of takeout food eateries all throughout Hawaii. The ban will take effect on December 31, 2018. Maui is the first island to take action on this ban.
While Oahu and Hawaii island are currently in discussion to advance similar efforts, many people fall on both sides of the issue. The environmental factors to the complexity that food businesses must face leads others to discuss an alternative way to compromise and find a balance for both sides of the spectrum.
The ban covers only polystyrene foam, identified as the white containers used to package takeout food: from heavy soups, sauces, and rice-based dishes. Clear plastic and solid polystyrene are currently not included in the ban.
"There is no doubt about the negative effects polystyrene foam has on our environment and how long [the] product exists after waste," said Andrew Harding, a resident from Kailua and the lead coordinator for Bayview Zipline in Kaneohe, who supports the ban. "Consumers often overlook this fact and how we indeed do not pay for the environmental and other 'costs' that these products have. Think also about how this product is produced. Don't you think that there is costs on the environment during its production in a plant? How about during shipment? All things we don't really consider sometimes when we pay for our 'cheap, convenience' meal."
Maui County of  Bill No. 127 restricts the use and sale of polystyrene foodservice containers. Section 1 of the bill states the threats it poses to environmental factors of the island "due to its lightweight nature and ability to break down into smaller fragments that persist for decades polystyrene foam has significant negative impacts on the environment and contributes to the potential death of marine animals and avian populations through ingestion." 
"On the other hand it will be hard for some business[es] to adjust without using them," Harding said. "But if it is in fact an overall ban that will affect lots of businesses, they will not be the only ones who will have to adjust and eventually their customers also adjust and it will become a new standard."
Polystyrene foam is often mistakenly referred as Styrofoam, which is a brand of foam, a registered trademark of the Dow Chemical Company. This trademark covers a full range of extruded polystyrene building products used primarily in construction for wall insulation, floor insulation, and roof insulation systems. Polystyrene is mainly used for disposable food-grade foodservice supplies and protective packaging material, especially in healthcare to minimize the exposure of bacteria and foodborne pathogens.
Polystyrene foam is recyclable. When disposed of properly, garbage and foam can be converted into electricity using H-POWER: Honolulu Program of Waste Energy Recovery. Through this program, waste is converted into electricity to power homes. H-POWER produces up to 10 percent of Oahu's electricity and reduces the volume of refuse going to landfill by 90 percent.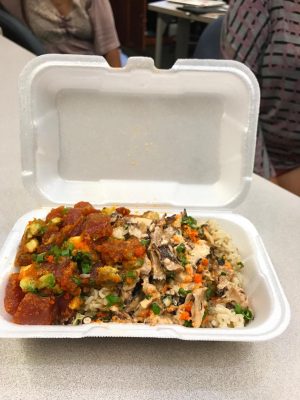 "It would have a great impact on the small businesses and consumers like me in terms of cost, but if this is what will help to better the environment and reduce the threat of death in marine animals, then everyone will just have to adapt," said Jamie Kahalewai, a senior Chaminade student majoring in psychology who is neutral on the ban.
This is a huge step forward toward the matter of pollution in Hawaii but this will have serious impacts. Small business owners and organizations will be forced to omit the foam products for costly alternatives such as biodegradable or cardboard takeout containers, potentially leading to higher prices for customers and businesses alike.
Haunani Valent, a 21-year-old student at Chaminade, has worked for numerous food catering services and is worried about the constraints on small businesses if passed on Oahu.
"It is already so expensive to have things shipped here in Hawaii and switching these will only mean that the customers will face the repercussions by paying more, which could actually hurt businesses more than help them," Valent said. "Until the state or government can find a way to make it less of a burden on everyone this ban will affect, it shouldn't be passed."
On Oahu, Bill 71, introduced by Councilmember Kymberly Marcos Pine, passed a first reading on Sept. 6 to the Honolulu City Council. The Bill prohibits food vendors and packagers from using containers made of expanded polystyrene foam.
"The next step is that it will be referred to the Public Works Committee meeting for further discussion," said Cathy Lee, a communications and media relations for Pine. "We were hoping that it will be heard at the next meeting (taking place next week on Oct. 25), but we just found out that it was not posted."
Bill 71 continues to be deliberated before the city council's consideration, Councilmember Pine's priority is to continue to improve how the city addresses environmental impacts.
While on Hawaii island, the use of polystyrene foam food containers will be banned by food establishments thanks to Bill 13 by the Hawaii County Council. The bill prohibits food vendors from distributing prepared food in disposable polystyrene containers beginning July 1, 2019.