Sweet Creams: Ice Cream Rolled to Perfection
Say goodbye to scooping ice cream into soggy cones and hello to ice cream rolled to perfection. For the first time after numerous event appearances and private hirings, Sweet Creams celebrated its grand opening on Saturday, Feb. 17.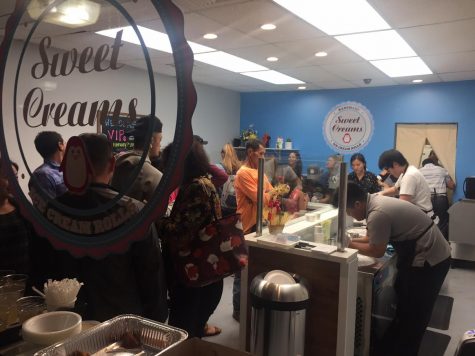 The idea of Sweet Creams was not originally supposed to be a business, let alone its own store. In January 2016, Jeffrey Kao, owner of Sweet Creams, watched a simple video of a man rolling ice cream on a cold pan. Kao decided to order a machine of his own and make ice cream at his daughter's first birthday party. Unfortunately, Kao discovered that rolling ice cream was a tad bit harder than it looked.
"I thought 'Oh it'd be cheap and simple. Just bring it over here. And you know, have it at her party,'" said Kao. "Obviously it didn't work like that because it took us six months to really get the right recipe down."
After months of trial and error with multiple recipes in search of the right consistency, Kao offered his first service to a friend's birthday party where the hype of his ice cream rolls began buzzing.
"It's all just word of mouth and social media. That's the amazing thing," Kao said. "Other people that were there saw us and wanted to book us. Then, of course, people post the picture online. And other people wanted to try and book us. And it just grew from there."
As the popularity of Sweet Creams continued to grow, it only made sense to go big or go home. Kao and his longtime friend and business partner, Bari Carroll, celebrated their grand opening of Sweet Creams, an ice cream shop located on Kona Street near Ala Moana.
In the shop, Sweet Creams offer classic and unique flavors that present itself with aesthetically pleasing toppings. With flavors such as Monkey n' Around, Strawberry Shortcake and Frozen Hot Chocolate, finding an ice cream to please your taste buds should hardly be a problem. Kao's personal favorite is the Love You So Matcha, which is a homemade green tea based mix, rolled and topped with azuki beans and a coconut milk drizzle.
"I really want to perfect it first, though. … We're still trying to find someone to make homemade mochi bites," said Kao.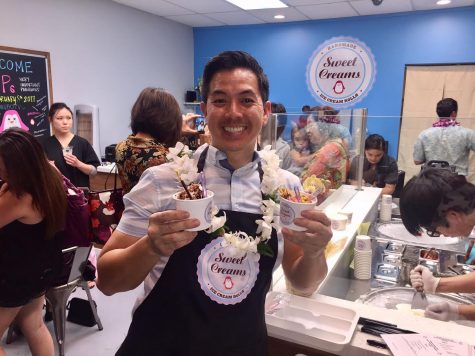 Sweet Creams strives to use locally grown fruits in its ice cream mix that is made fresh every day. Aside from selling ice cream rolls, Sweet Creams also sells fresh squeezed lemonade in various flavors such as li hing-mui, pineapple, strawberry and passion orange guava.  
"We're a very fun, energetic type of place if you want good ice cream. … We're not serious about what we do, but we're very serious about our ice cream," Kao jokingly said.