Chaminade holds first ever Chamival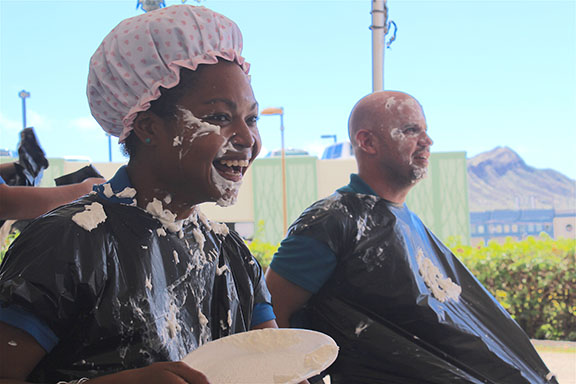 On October 7, Chaminade held its very first carnival and games event for students called Chamival.
Located in the heart of Chaminade activities, the Henry Hall Courtyard, the mini carnival featured three game booths: the dunk tank, the dart balloon table, and the pie toss booth. These activities encouraged both student to student interaction as well as faculty and staff interaction with their students.
"I came after my class at 12:30 and there were lines for everything," said junior senator Amber Rodriguez. "Everyone wanted to win the Maui Monday tickets for the darts, everyone wanted to go pie someone and especially dunk different CSGA (Chaminade Student Government Association) officers."
The idea of Chamival was created by Chaminade Student Programming Board (CSPB), a branch of the CSGA as a means to have students, particularly newly enrolled students, to get to know their student representatives. The programming board works with student government to create fun and engaging activities that will bring the Chaminade community together.
"I did not expect a lot of people to come, so I was surprised," said Jerri Fransisco, vice president of programming board. "I am really happy with the turnout, though, being that this was our first event. People enjoyed the fun activities, and I am hoping to have it again next semester."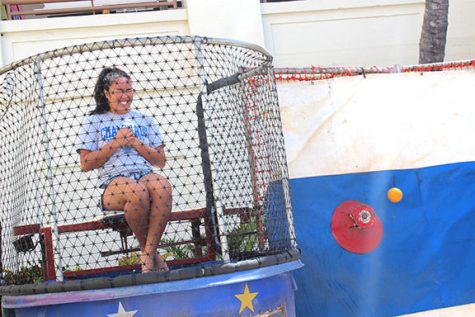 Professors and members of the Chaminade staff volunteered to be dunked and pied in the face by students that attended the event. Sahtiya Hammel, the assistant director of OSAL, attended and participated in Chamival on Friday.
"I think it's a really positive event," Hammel said. "It seems there is a lot of student activities. People are laughing a lot. It's been a lot of fun. I recently got pie-faced, but it was all in good fun. No one was vindictive."
Student officers were also involved primarily with the dunk tank. They showed their Chaminade pride and spirit by being fully submerged in this social activity, literally.
Free Ono Pops were available to all attendees. The six assortments of flavors: kona coffee, strawberry cream, strawberry lemonade, chocolate apple banana, butter mochi, and li-hing mui was clearly a great way to bring in students. The hope of the student government was to interest students to come out and get to know their student officers and senators.
"I was a participant, socialized, played games, and ate loads of Ono Pops," said Savannah Delos Santos, a sophomore and resident hall association president.
The hope was to bring all of the different Chaminade students out of their comfort zone to participate in an event that aimed to help build relationships with other peers and professors during the stressful time of midterms.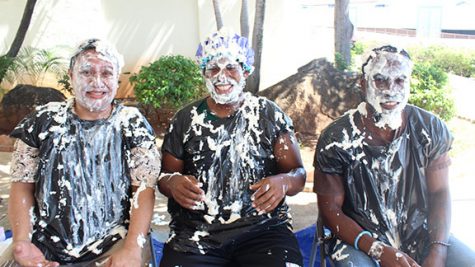 "It's so much fun, it was a lot of really cool people here a lot of cool events," said Katie Michels, a CUH senior. "I won a giftcard! I wasn't expecting it. I've been missing every time, so this is quite a surprise. I did all the events."
Chaminade is striving to be more interactive with student-run clubs as well as the student government this semester and the semesters to come.
"I would definitely do this event again," Delos-Santos said. "I truly felt it was a success because it truly was for the enjoyment of the school community.  All they wanted was for the students and faculty/staff to have fun, and that seemed to be exactly what happened."
The next event CSGA and CSPB has in store is a commuter meet and greet that will take place on Oct. 20. Free breakfast will be provided.