SAAC reaches half of its goal for the Make-A-Wish foundation
The Student-Athlete Advisory Committee, also known as SAAC, has already reached half of its fundraising goal of $2,500 last week, according to SAAC secretary Amber Manuel.
The money is raised and donated to the Make-A-Wish foundation where they help grant wishes of children with life threatening medical conditions.
With many events planned for the school year, SAAC has made more progress than in previous years.
"I feel like we are making such an amazing progress," SAAC vice president Chelsea Camello said. "Chaminade is ranked in the top 5 in the PacWest Conference SAAC in reaching our goal for fundraising."
Manuel and Camello are both a part of the Chaminade softball team.
SAAC has been a way to get students more involved with the school with the help of Chaminade student-athletes.
"Most of the money we raise comes from the students, some come from outside donations, but we get that from donations at our sports games," Camello said. "We want to make the students feel like they are making a difference in a child's wish when they donated money.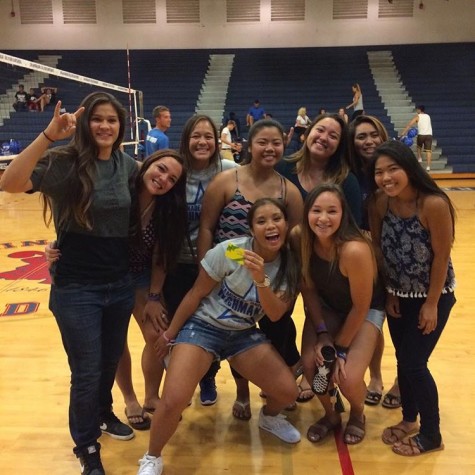 This past Friday, the winner of Penny Wars was announced at the women's volleyball match against Azusa Pacific.
Penny Wars is when all the sports at Chaminade compete against each other for a pre-game meal. Each penny donated into the bucket of the sport they choose gains one point. For every dollar or coin that isn't a penny put into the bucket, that subtracts points from that team.
The total amount raised from the Penny Wars was $510.29.
The only team to end with positive points was softball. Raising $155.71, softball won the pre-game meal.
It is the first time Chaminade reached half its goal in the first semester and with half of the goal yet to be met, SAAC is working hard on its upcoming events.
"We hope to keep raising money through our 'Sword Nation' shirt and 'Wish Makers' shirts," Manuel said. "They have both been popular and we are still selling them."
Future Make-A-Wish events include a "Boys & Girls club night" and a possible "Date Night" with approval.
"I'm 100 percent confident that we will reach out goal," Camello said. "We have so much more planned that we would like to do to help fundraise more for Make-A-Wish."
Shirts are available to purchase in the athletics office in Henry 221 for $15 each. All proceeds go to Make-A-Wish.