Chaminade Becomes Family Affair For Kauai Cousins
The Chaminade University community is often referred to as one big family. However, six Silversword students from Kaua'i are literally from the same 'ohana. 
The family — (in order of age) Joseph Durocher, Mikey Cruz, Naomi Noguchi, Anthony Durocher, Vincent Noguchi, and David Cruz — are first cousins who are all currently Chaminade University students. But they have much more in common than that. 
All six of them attended St. Catherine School in Kapa'a, Kaua'i until the eighth grade. Each of them graduated from Kapa'a High School, which is right across the street from St. Catherine. So it was probably inevitable that they would all end up at Chaminade together. 
"It is easier going to a school with so much family, especially family that I'm so close with because I know I'll always have people to rely on," said Naomi, a third-year Elementary Education major. 
For these six cousins, the Chaminade bloodline runs deep. They are continuing a family legacy started by their grandmother, Anne Noguchi, who graduated from Chaminade in the spring of 1960. All of their parents attended Chaminade except for Joseph and Anthony's dad. The oldest of the cousins, Jude Noguchi (Mikey's brother), also went to Chaminade. Jude and his wife, the former Raquelle Matayoshi, graduated in Spring 2016.
The parents of these cousins made a strong push for their children to apply for Chaminade.
"When I was applying for schools, I only applied to other schools as backups," Naomi said. "Just in case I never got into Chaminade."
Since these six cousins are attending the same school, they don't get homesick as much, because they have family close by. It also helps that they are just a 20-minute flight from home.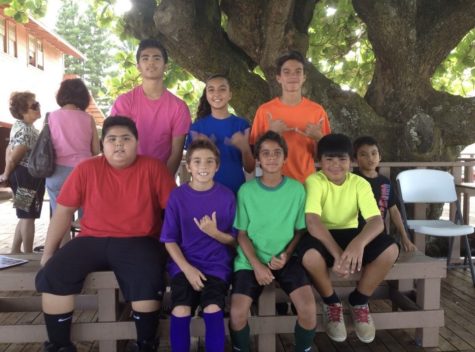 Growing up, these cousins were very close with one another and were taught by their parents how important family is. They attended St. Catherine School and church on Kaua'i and have spent a great deal of time together. Since coming to Chaminade, nothing but the location has changed. They usually eat at the Silversword Cafe at least three times a week together and hang out on the weekends. They also attend church on campus every week. 
Vincent and David (an undecided freshman) are roommates in Hale Lokelani. Mikey (a senior Psychology major) and Naomi both live in Wai'alae dorms but not together, and Joseph and Anthony live in an apartment in Hawaii Kai.
The youngest of the group, first-year students Anthony (an Environmental Studies major who is also minoring in Business) and Vincent (a Business Administration major), admit that they rely on their older siblings for help. 
"It's nice to have your brother who has gone through the same process I'm going through," Anthony said. "Of course, he helps with homework since we're both science majors but when I moved here it wasn't too bad since I was just moving in with my brother."
"I live in the dorms with David so every once in a while my sister will call me or come and check up on me to make sure I'm doing the right things," Vincent said. 
Joseph (who earned a bachelor's degree in biochemistry in May 2022) is the oldest of six cousins and is currently pursuing a master's degree in Business Administration and Computer Science. He was at Chaminade before the rest of his cousins, so he admits that he does not rely on them as much. 
"Academically I help my brother and cousins occasionally on business and science topics," he said. "I personally don't lean on them academically. Socially I'd say it's 50/50. I hang out with them sometimes and I hang out with other people sometimes." 
With two more Durocher siblings and one more Noguchi sibling currently in high school at Kapa'a, the family pipeline from Kaua'i to Chaminade University is likely to continue. 
For the current Silverswords in the family, they feel right at home at Chaminade.
"I see my friends having fun on the mainland and seeing snow for the first time and sometimes I wish I could experience that," Anthony said. "But I am grateful that Chaminade has given my family and me the opportunity to stay together, and I wouldn't change my decision to come here."