Senior Wows With Solo Finale Performance at PIR
Thunderous cheers came about when Sisca Aaron made her reappearance at Chaminade's Pacific Island Review on Friday.
When the night came to an end, Aaron closed out PIR with a solo performance on behalf of the Lumana'i O Samoa club. The crowd came alive as she was escorted towards Sullivan Family Library Lawn wearing an 'ie tōga, a traditional woven mat wrapped around her waist with a traditional headdress known as "tuiga."
As she started dancing, members of the crowd immediately joined Aaron to show their support. They danced around her as others joined to shower her with money and loud words of encouragement. A huge crowd gathered around her as she finished her solo with big smiles all around.
"It was a thrilling experience," said Aaron. "We're very appreciative and grateful we have these kinds of events to showcase our culture."
PIR was filled with performances from Micronesian Club, The Filipino Club, Ka Ipu Kukui Me Ka ʻie ʻie club, and the LOS club. Aaron has been a part of both the LOS club and the Micronesian Club since her freshman year. However, with her main focus being on her Samoan dance, she wasn't present during the Micronesian Club performance.
With her and Alycia Tausaga being the only seniors of the LOS club, Aaron performed a Samoan princess dance as a senior sendoff while Tausaga will be performing her solo at next semester's Extravaganza.
"I loved her Samoan performance, she was awesome," said Merkii Meek, a University of Hawaii student who performed with the Micronesian Club.
Even though she only performed with the LOS club, her presence within Micronesian Club has been significant throughout the preparation of PIR which started in late September.
"Sisca is the foundation of this club, she's done so much for us," said Shota Shigeta, a Micronesian Club member. "Her performance tonight was fantastic, awesome, and something no words could describe."
With Aaron being a treasurer for the Micronesian Club, Shigeta says she does more tasks than she's required to do and has been a big help towards the club.
"Sisca displays many characteristics of leadership," said Shigeta. "She's responsible, initiative, outgoing, thoughtful, and hardworking. Sisca works in so many ways that, without her, I doubt the club would be what it is now."
With all PIR performances being on one night unlike last year and 2020's PIR performances spread throughout a week due to COVID-19, multiple clubs were able to finally come together and perform with a loud crowd to showcase their culture for the first time since 2019.
"It's more exciting this way, to have all the energy and hype all in one place," said Aaron. "That's one thing we all appreciate, we were so happy that our clubs got to get back together again. Even our alumni came out to support us and overall it was just very exciting."
Aaron said events such as PIR help to bring awareness of multiple cultural clubs on campus for new Pacific Island students.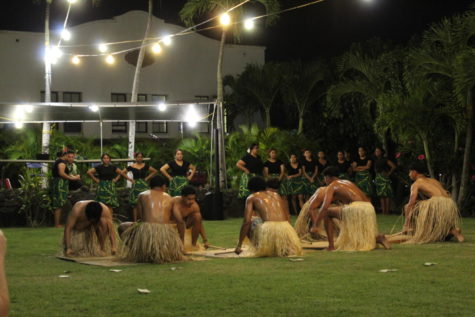 The Micronesian Club wasn't alone when performing their dances. Three University of Hawaii students – Merkii Meek, Jaden Remoket, and Bars Williams – helped the Micronesian Club perform at PIR even though they're not members. The Micronesian Club used Palauan music during their performance and with only one Palauan member, they sought UH Palauan students to help choreograph their dance routines.
Without Aaron performing with the Micronesian Club, the club still appreciated her help.
"She's been a big influence, she reminds members about practice even though she's not dancing in our performance," said Meek. "She was a main factor in getting us all together and making our performance great."