Chasing Dreams and Making Waves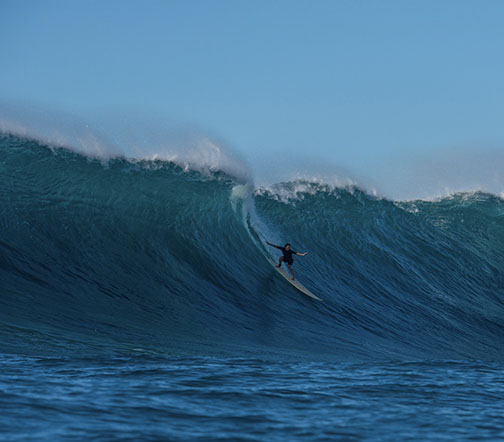 From riding her pink, foam top at the age of 6 to ripping 30-foot waves on one of the most well-known professional surf teams in the world at 19, this teenager has turned a childhood dream into her reality.
Kelta O'Rourke spent years training and competing in surf contests in pursuit of one goal: join the women's Big Wave Tour. Now, she's the youngest woman by nine years on the World Surf League team that features Keala Kennelly, three others from Hawaii, and 11 women total. This fearless UH-Manoa sophomore tackles 30-foot waves with abandon, and her inspiring mission to positively impact those watching, as well as those participating, is making waves.  
"Hopefully younger girls will see … me and the other girls who just started getting into it and know that they can do it too and that there is opportunity within the sport," O'Rourke said. 
The Kauai native will have her eye on Waimea Bay as the second annual waiting period for the Red Bull Queen of the Bay competition comes around. The waiting period is a short window, open from October 1 through November 21.  
O'Rourke first hopped on a board when she was 3-years-old. However, it was a moment of jealousy that planted a deep love for the ocean and its playground. Her father recalls and proudly shares a story of the time he was out surfing with the child of a family friend. O'Rourke managed to spot them from shore, and fueled by envy, swam her little heart out to where they were so that she could show them how it's done.
Being raised on Kauai's North Shore meant weekends were for the competition. Just as most kids on the mainland spend their Saturday afternoon playing in a soccer or basketball game, it's typical for local kids to spend this time participating in amateur surf contests. O'Rourke was 9-years-old at the first contest she ever participated in. It was the Irons Brothers Classic, and she won the competition. 
Years later, Kahea Hart, now O'Rourke's coach, led her through the gateway to big-wave surfing. Addiction came hand in hand with adrenaline after engaging in a chase to beat the powerful wall of energy, which threatened to take O'Rourke's breath away. Successfully ripping 30-foot waves left a desire to participate in big-wave competitions.
"It's scary, but it's definitely worth it," she said. "The adrenaline rush you get is insane."
Excited and motivated, O'Rourke was certain of the path she wanted to take. Emily Erickson, Bianca Valenti, Keala Kennelly, and Paige Alms are just a few of the professional female surfers O'Rourke looks to in admiration. Their talent is undeniable, as is the courage that has accompanied them on the long road to gender equality within their field.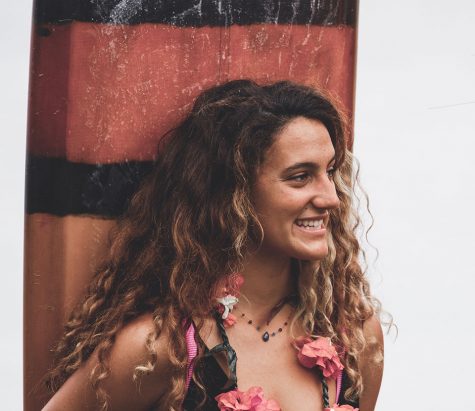 This push for fair treatment, in terms of equal pay and quality events, is a battle that has been fought for decades, but only recently has there been a shift. Just this year, WSL (World Surf League) has become the first event to pay men and women equally. This is a huge step, however, the movement will need more momentum in order to produce a wider ripple effect.
"I remember doing events and the girls would be put out in the worst surfing conditions possible and they would save the dates to send the guys out on the better days," O'Rourke said. "And of course there was always super unequal pay. I would get maybe half of what the guys got even if I got a better finishing than them overall."
The Queen of the Bay competition, started last year, will be taking place again during the fall seasons of October and November. Similar to the Eddie, this contest is held at Waimea Bay. While this was a welcomed addition for women, men are still getting the more quality waves seeing that they are competing during the winter months, which are known to bring the best surfing conditions. This is just one example of the many hindrances that limit female competitors.
O'Rourke has seen the obstacles women face within the professional surf world but, like those who have been in the game for some time now, she understands the importance in chasing her dream and fighting against injustice. But no matter how tough it gets, there are always the empowering memories that live on forever in her mind and give her mission purpose.
The moment that made her feel most alive is the same moment that brought her closest to death. It was the first time she had ever surfed Peʻahi. The Big Wave Jaws Challenge took place in November during a monster swell with waves between 35 feet and 45 feet. In conditions such as these, it is recommended that contestants wear an inflation vest in case of an emergency. During the 2018 competition, O'Rourke was the only woman who chose to surf without a vest because of its cost of about $150.
"It's like a comfortable scared, it's like an excited scared," O'Rourke said. "It's no more risky than driving your car everyday, except you're purposefully putting yourself in danger."
Upon the arrival of her heat, she paddled out alongside her opponents, only to get pounded by the oncoming wave. With no vest and the wind knocked out of her, O'Rourke spent an intense minute underwater in a two-wave hold down. Returning to the surface injury-free, O'Rourke felt unstoppable. This mindset is what has launched her into a sea of achievement at such a young age.
"After that, you feel like you can do anything," she said.
For that, O'Rourke came in tied for 9th and earned $2,800. 
Her success is admirable to many, including a close childhood friend. The two met at Hanalei Beach when he was 10-years-old and she was 8. He remembers watching her seamlessly weave up and down the waves as he sat further in, attempting to just stand. As their friendship grew, so did her thirst to ride bigger surf. He was there to watch as O'Rourke paddled out into the rising swell. He admits that at first, watching her made him nervous. However, his worries quickly washed away as O'Rourke proved her talent, strength, and perseverance, just as she does toward all her aspirations.
"It's really amazing what she's capable of and I feel like big-wave surfing is not really a daunting task for her to do," O'Rourke's friend said. "It's not something she goes out and she's scared to do."