CUH Professor Teaches Value of Community Service
At the age of 12-years-old, Wayne Tanna found himself painting on top of a roof at a friend's church event, surprising church volunteers. That sparked a lifelong passion for community service that he preaches to his students.
Church volunteers found it strange that a teenager would be actually willing to help and volunteer, even when the message of kōkua was being promoted and people in Hawaii were into volunteering, according to Tanna. Usually, teens were forced because they were a juvenile delinquent and sentenced to community service.     
"I am up on the roof and I am painting," Tanna said. "People were looking and asking, 'What is this young kid doing here?'"
Tanna, an accounting professor at Chaminade and attorney, developed a dedication to giving back to the community that he instills in his college students by integrating both his teachings and community service values into his curriculum.  
Outside of the university, Tanna is an attorney and consultant he takes part in practicing law in the areas of nonprofits, tax and civil rights law.
A man approached Tanna in Times and asked him for five dollars, Tanna told the man that even he [Tanna] has a hard time coming up with $5 but instead of giving five dollars maybe he could help him file his taxes and get some money back by a refund.
"You can actually give them a hand up instead of hand out," Tanna said.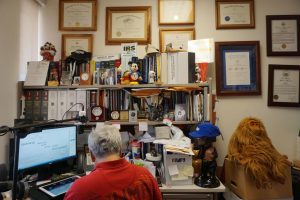 He is a specialist in tax law and teaches a wide range of courses like Business Law, Communications, and Political Science to undergraduate and M.B.A students at Chaminade. Tanna has been an accounting professor in the School of Business and Communication at Chaminade University since August 1992.
In the springtime, Tanna and his accounting students give back to the homeless community. They help employed homeless with filling out their taxes. Tanna explained that employed homeless people have tax liabilities and are entitled to refunds. Tanna and his students help those with refunds and credits that will help them move them into better situations and through that, they are also participating in social work and civic engagement.
In COM 433 Media and Law, to achieve an A in the class, Tanna has his students either write a 20-page paper or do community service project, helping students at Palolo Elementary School. This is encouragement to give back to the community and rewarding students with values of helping others.     
"I enjoy the community service that Tanna encourages us to partake in because the experience we gain from volunteering with the kids is priceless," said, Mailani Fidel a business administration major and a member of the Hogan Entrepreneurs program. "Most of these children don't have much, but they have spirit and beautiful personalities. When Chaminade students volunteer with the keikis, we give them role models. Community service has taught me to stay grounded and remember why I strive to be great."
Correction Mailani Fidel to [Mailani Faniel on May 4, 2018]