New coffee shop connects art and culture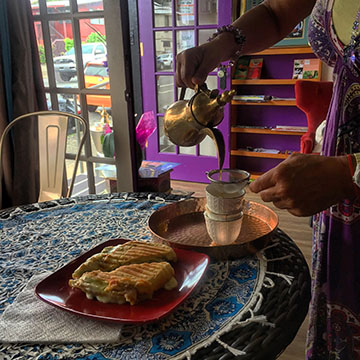 Art and culture surround you as you step through the doors of Mirage Art and Coffee a new coffee shop located at 1425 10th Avenue.
Mirage Art and Coffee opened its doors on March 2. It is the vision of owner and self-proclaimed "lover of fun" Jasmin El-Gohary (pronounced YAS-meen EL-jo-Harri).
"I hope more people come to see what we are all about," said El-Gohary. "I encourage everyone to try something new. By coming here they may learn more about different cultures around the world while enjoying some fresh coffee."
Mirage is not only a coffee shop but also an art gallery and musical venue that showcases art and music created by El-Gohary and local artists.
"I love art in every form," said El-Gohary. "I've been having this dream to create a space where art and all cultures can meet and connect."
El-Gohary grew up in Bahrain and has since travelled all over the world experiencing many cultures from places such as Saudi Arabia, Africa, Germany, Italy and now America and Hawaii. Her travels have inspired her to create Mirage Art and Coffee as a place to encourage people of all cultures to try something new and share a piece of their home.
"I want to spread the love of art in any form," said El-Gohary. "I want to spread openness of different cultures and I want to show that we are all the same. Everyone in the world wants the same thing. I feel like some places have gotten a bad wrap. I am half Saudi and half German. I married a local Japanese guy from Hawaii so my kids are world nomads and so am I. This is about bringing those kinds of people and minds together here."
Mirage offers coffee food and tea from various Locations like Saudi coffee from Saudi Arabia and affogato, a coffee-based ice cream dessert from Italy.
Entering Mirage is like stepping into the world section at an art museum. The walls are lined with dozens of paintings and sculptures ranging from large to small. All artwork is for sale and is produced by El-Gohary or is being sold on commission by local artists.
Mirage host's art and coffee events every month where guests are invited to come and take a painting class while they socialize and enjoy exotic coffee.
"This month we are painting basic flowers but I encourage imagination from anyone who participates," El-Gohary said. "Everyone paints differently, and it's interesting to see how someone else's work comes out when they are trying to paint the same thing as you."
On the third Saturday of every month Mirage hosts an open mic night where local musicians can meet and share their music.
"Our last open mic night was amazing," said El-Gohary. "We had bongo players and some amazing singers come. I've thought about doing it more."
Mirage Art and Coffee is open Monday through Friday (from 7:30 a.m. to 5 p.m.) and Saturday (8 a.m. to 6 p.m.) and is closed on Sunday.