Chaminade's North Shore Surfer
There aren't too many aspiring biologists in the world who can roam and ride the ocean as comfortably as Garrit Deweese. The world-famous Banzai Pipeline is nothing more than a pipe dream for many surfers from every corner of the globe, but the Chaminade University senior calls it his backyard. Deweese grew up on the North Shore of Oahu, with his elementary school no farther than 100 yards from the beach, and his bedroom not too much farther than that. He's tenacity to complete a trick or set of tricks he has in mind is what keeps him riding, a mentality that is common and vitally necessary growing up at the North Shore.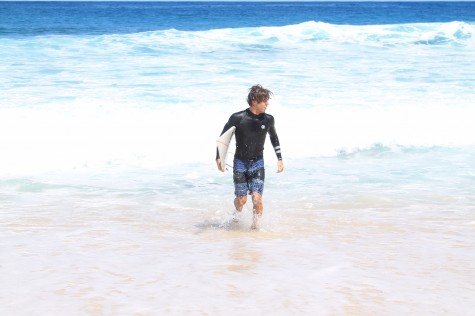 "Growing up at the North Shore meant that there was pro surfers living near me, and I'm going to elementary school with their kids," said Deweese, who is majoring in Biochemistry. "So from a very young age I learned how big of deal the North Shore, especially Pipeline, was."
Deweese remembers learning to surf at a young age when his father taught him on smaller days in Haleiwa, and he confesses to being mostly uninterested in surfing when he was younger. But as he grew older he developed as a surfer and found himself in the water more often than not.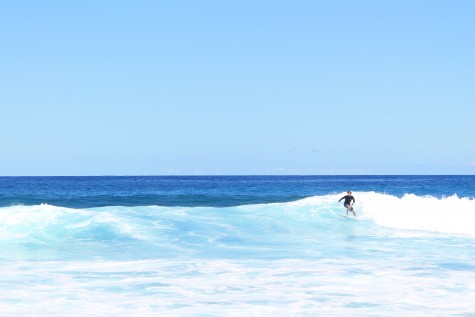 "To be able to surf Pipe and push yourself to want to become professional, you need to literally not give a damn about anyone that's out there," said Deweese. "Even though it's a community and a friend group when you're out there in the water, to become pro and push yourself, you need to have to want to go out at Pipe and get the best waves and do the best trick. It's competitive out there; it's dangerous because it's so crowded. You need to become really selfish and have an attitude. Like, I don't care if you're in my way; I'm going to do me. It's just dangerous there. I like to surf Backdoor (surf break), which is more spread out."
Deweese was 14 when he first surfed a barrel at Pipeline and admits willingly that the crowds of people in the water is an extremely daunting and nerve-racking experience for even the most proficient surfer. The world-famous North Shore of Oahu has produced some of the best surfers on the planet, and the importance of surfing, not just from a cultural sense but also from a competitive standpoint, is drilled into North Oahu's youth from the very first time they ride a wave.
"Growing up in elementary school, companies would come and give us a bunch of free stuff, like clothes and boards," he said. "All the brands were there advertising, selling surfing to us. So we knew then that Pipe is the place and surfing it is the thing, and if you want to be professional, you need to be one of the surfers that can surf Pipe and be known at Pipe."
Deweese passed the opportunity to push himself far enough to go professional, but he is certainly capable of surfing alongside them, and often does whenever he surfs a stretch of the seven mile miracle between Waimea and Rocky Point. He's loves watching and surfing next professionals just as people love watching and surfing with him. He inspires his friends who surf and pushes them to improve every time they head into the water.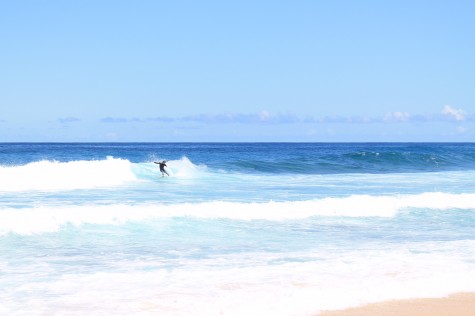 Lukas Pousett is a fellow Chaminade student who has been surfing for less than a year. He has been surfing with Deweese and claims that his friend's knowledge of the water and ability to keep control on waves that are twice his height is a truly amazing talent.
"It's so interesting to hear him evaluating waves. He has so much experience, which he obviously has gained from years of growing up meters away from the world's most famous wave," said Pousett. "Even watching him stand up on his beater board, not even his surfboard, is a special thing to see."
It's not just from new and improving surfers that Deweese impresses. Experienced surfers around the island also look up to him. Former CUH student David Kasberg works as a surfing videographer in Waikiki and even he is often left astounded by Deweese's ability.
"He is so at home on his board on it's scary," said Kasberg. "I definitely look up to him in the lineup and let him have priority. It's very cool being boys the with the best surfer on any given day."