New Arvo Café Offers Aussie Vibe
When in Kaka'ako, one new catch on the block is Oahu's very own Arvo Café.
Arvo — which is slang for "afternoon" in Australia — was created by sisters Casey Wiggins, Dixie Rose, and Dixie's husband Mason Rose. Mason hails from Down Under, which is how the idea got started, and he brought his friend and business mentor Stewart Clark over from Australia to help them get ramped up for the opening.
It focuses on coffee, but customers can get Aussie-style food here, too.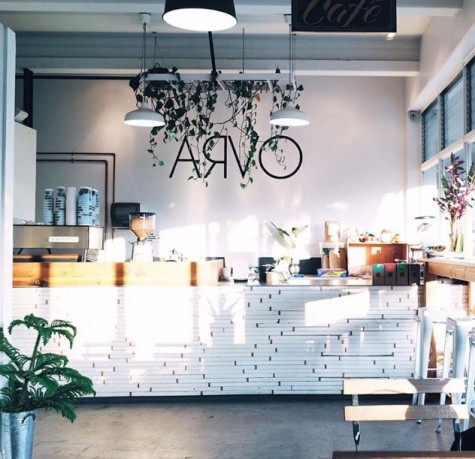 Arvo is the cutest chic hangout. When walking inside the restaurant, there are natural plants, succulents and flowers everywhere for décor. Small, vintage wooden tables and chairs cover the floor inside and out, and the walls are painted a faint white, rubbing off a friendly and gentle vibe. The inside is also lightly air conditioned, but feel free to sit at a nice table outside if looking for a touch of sunshine.
The menu is short and sweet. It consists of vegemite, Nutella, smoked salmon and avocado toasts, cheese filled croissants, and more. Drinks include black coffees, macchiato, cappuccinos, hot chocolate, teas and chai lattes.
The food is seemingly simple with its lesser amount of ingredients, but the end result is very rewarding. The fully loaded avocado toast has avocado, arugula, tomato and feta cheese topped off with a pretty little viola flower. It's unique because it consists of some of our most favorite foods all loaded onto a lightly toasted slice of bread. It's tasty and beautiful – customers don't want to mess it up!
Like a good Aussie spot, Arvo also serves vegemite. Don't be put off by the rumors — this yeast extract spread isn't that bad. It's a little salty and reminds me of lihing mui powder. When you have it on buttered toast (just a thin layer), it's actually much more neutral on the palate. Another variation is vegemite-avocado toast. Avocado toast is a big thing in Oz.
Arvo's drinks are another reason they are so popular. For most who are familiar with a Flat White, it has equal parts of milk foam and espresso. A Short Black is a shot of espresso in a demitasse cup. A Long Black is an Australian coffee drink made by pouring a double-shot of espresso over hot water — like an Americano, but stronger.
Lastly, put aside the acai bowl cravings and try something new. Arvo's chia seed pudding is delicious. Starting from the bottom, it's filled with green chia seed pudding, and the middle is filled with tons of fresh fruits. Strawberries, blueberries, kiwi, and banana with a generous layer of fresh, match whipped cream and coconut flakes to top it off.
The toast and croissant prices range from $2.50-$6.50, the coffee and latte prices range from $3-$4.50, and the chia seed pudding is $8 ($9 to-go with mason jar to keep).
Arvo isn't like all the other health craze restaurants. The workers have a passion for quality, making each signature toast with the intention of making its customers first bite a memorable one. They carry pride for one another in and outside the workplace, working side by side, as a family – it makes the food all the more enjoyable.
Added bonus – one of the baristas, Gabby, just happens to be the best local tour guide in town. She can name numerous go-to-spots if you're looking to get away from the normal Waikiki tourist traps.
Arvo's simplistic toasts and coffees bring out a true Aussie vibe. Tasteful and healthy with all locally grown ingredients, it gives you a sense of home and where we come from. It's cozy here.