Popular California bakery opens in Honolulu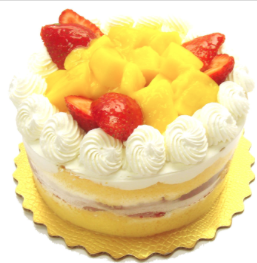 A popular California bakery has made its way to Hawaii. JJ Bakery is a fun, unique experience that offers Asian-inspired fresh, handmade desserts, cakes, cookies and other pastries. Locals are able to skip the busy lines and expensive prices at Magnolia Bakery in Ala Moana for an equally tasty dessert across the block at the Pacific Guardian Tower.
The bakery offers both sweet and savory items. Although it has been weeks since its grand opening on November 16, it was quite busy during two recent visits. Customer service was great, I was greeted upon entering the store and was asked a few times if any help was needed. The 2,500-square-foot bakery is spacious with a nice touch of classic décor. There is ample amount of seating for customers who cannot wait to take a bite of fresh baked goods and talk stories amongst friends.
One side of the glass wall is lined with shelves of pastries, loaves of bread, gift boxes and even jars of honey, all of which curious patrons are able to view form the street. A glass case also contained refrigerated and well-decorated items such as fruit tarts, cheesecake, pies and cakes. In addition, JJ Bakery also offers a variety of cold and hot drinks such as coffee, teas and milk tea. Food trays and tongs are placed at the beginning of the bakery line for customers to easily obtain items of choice. Each item is individually packaged, which takes away the anxiety for germaphobes like myself.
I was able to try a variety of delicious baked goods such as the meat lovers bread, crème brulee bun, curry beef pie, taro bun, Earl Grey dacquoise, and the milk tea. Each item was appropriately priced and well proportioned.
At $2.25, the meat Lovers Bread was packed with so many noticeable flavors like mayonnaise, ham, bacon, dry pork and scallion. In essence, it is the upgraded version of the popular ham and cheese pastry offered at Saint German's Bakery in Ala Moana. The $2.25 crème brulee bun featured moist bread, sweet custard filling and corn flake topping. The curry beef pie was reminiscent of the napple pastries available at Zippy's, except it had a beef, onion, black pepper and curry filling. Its exterior was relatively flakey and crispy, while its interior had a creamy and flavorful curry filling.
Lacking in flavor, the taro bun on the other hand was my least favorite. For those who appreciate intense and unique flavors, the Earl Grey dacquoise had an airy filling with a nice touch of Earl Grey flavor in between two pieces of fluffy cake garnished with whipped cream and strawberries. At almost $5, the unique dessert was the most expensive item purchased but it was made up for in flavor and presentation. A self-proclaimed milk tea expert, the regular milk tea was enjoyable featuring a great tea flavor that was not overly sweetened.
Overall, JJ Bakery provided a great experience and tasty treats for the whole family. Created in 1996, the bakery has several locations throughout California. It's City of Industry location, which opened in 2009, became its first restaurant bakery making it its flagship store.