Top 10: Oahu food dives
Hawaii has many food options to offer to the ranging masses of tourists and locals. Oahu is especially diverse with restaurant chains, some include, Roy's, Jimmy Buffett, Hard Rock Café, and California Pizza Kitchen. Although these places are great choices, there are smaller businesses hidden among the city's roaring crowds, that offer a more memorable experience offering great food in great locations.
1) Scratch
1030 Smith St.
In the heart of Chinatown, this little hole-in-the-wall breakfast joint is by far a winner. Every item is made from scratch, and the chefs change its menu every few months to keep its customers wanting more. This season had milk and cereal pancakes, shrimp and grits, and many more. They are only open until 2 p.m., so get there early to make sure your favorite item is still on the menu.
2) Koko Head Café
1145 C 12th Ave.
This place is a must stop in Kaimuki. From breakfast cocktails to frosted flake French toast this little café stocked with ingredients from local farms is always ready for the breakfast rush.
3) Bills Sydney
280 Beachwalk Ave.
This Australian joint has somehow been able to hide in the heart of Waikiki avoiding the spotlight for a few months. The upstairs, outdoor loft-type feel transports you to a whole different experience from Waikiki. The kitchen boasts everything from ricotta cheese pancakes with honeycomb butter, to a coconut poached chicken sandwich, giving your taste buds a little more adventure.
4) Moena Café
7192 Kalanianaole Hwy.
This is a favorite stop for many people in Hawaii Kai after they finish the mighty Koko Head Trail. With many options for breakfast include, cinnamon roll pancakes and even kalua pig eggs Benedict can be enjoyed in this poshly decorated diner, this place will never have a slow day but a line out the door of people wanting more.
5) South Shore Grill
3114 Monsarrat Ave.
Across from Diamond Head sits this great family owned restaurant that is always packed on Tuesday. Why? Because their fish tacos are the best on the island so for $2.50 a taco, everyone celebrates "Taco Tuesday" here.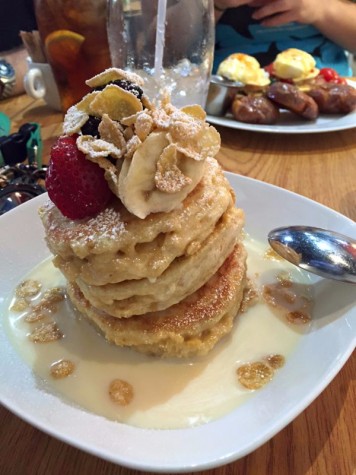 6) Da Spot
2469 S King St.
This is a college, budget friendly restaurant that has the best bang for your buck. Many options from; lamb shank, sun-dried tomato  stuffed chicken, Egyptian chicken, and many exotic fruit smoothies.
7) Brew'd
3441 Waialae Ave.
Known for the many exotic beers, this gastro pub has an exotic menu as well. It offers fried devil eggs, ghost pepper pickles, beer tiramisu, to even an ice cream beer float. This pub will keep you coming back asking, "What's on the menu this week?"
8) Banán
3212 Monsarrat Ave.
Served straight from a food truck in a parking lot filled with hammocks and couches is how you will enjoy your dish from Banán. Located across from Diamond Head, it serves different flavors of acai bowls from banana, passion fruit, ginger and greens, which gives you the option of ordering in a cup size or half of a papaya.
9) JJ French Pastry & Bistro
3447 Waialae Ave.
A confusing restaurant that has Asian, Egyptian, and French styles, but also has the best little cakes Hawaii has to offer. Pistachio Brandy, chocolate lilikoi, chocolate pyramids and green tea cakes. The display case filled with small cakes of every shape size and color that will tend to your mood.
10) Frost City
2570 Beretania St.
A small business that is tucked in the corner near University Street, serves amazing snow ice flavors,
which is a type of consistency that looks like shave ice but tastes like ice cream. The flavors change weekly, and you can even give suggestions. Some of the many interesting favorites include Wasabi, Pineapple Coconut Mint, Caramel Apple, Thai Tea, and Haupia with Sweet Potatoes. This family owned business has shown that it never runs out of creativity.