Idaho Native Comes to Chaminade Through Ghana
Sawyer Storms, a 6-foot-7 sophomore on the men's basketball team, took a long journey to get to Chaminade in 2020.
"The stars aligned for me to come and play [at Chaminade University]," he said.
Storms, who has played in all seven games off the bench this season and is averaging 4.3 points per game, is about as atypical an athlete has Chaminade has on its roster. He came to Chaminade from Idaho via a CUH connection he met in Africa. And, at 22, he's been married since July 2020.
"He brings a really good work ethic and a sense of responsibility," said assistant coach Kyle Milligan, who recruited Storms. "As a coach I never have to worry about him. He's overall just very consistent. … It takes a man to be married in college. I'm impressed every day, and I learn things all the time from him about being a good husband. I hope to be as good of a husband as he is one day."
After graduating high school in Idaho in 2017, Storms attended a mission trip as a part of the Church of Jesus Christ of Latter-de Saints in Ghana, Africa. During his mission, he met point guard Jessiya Villa, who is the grandson of longtime Chaminade athletic director Bill Villa and was also there for the church. The two became friends there, sometimes playing basketball together during their free time.
After the mission in Ghana was over, Storms played for the College of Southern Idaho, and Villa came to Chaminade University. But the two stayed in touch and started talking about both playing in Hawaii together. Villa and Storms joked about it together, but it did not come to fruition until Villa spoke to the coaches and they reached out to Storms.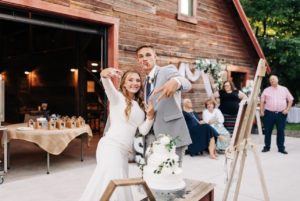 In May 2020, Storms signed a letter of intent to join the Silverswords.
Right by his side during this signing was Brooklyn Anderson, whom he had met through mutual friends at Southern Idaho. A little over a year after they met, they got married.
Storms is one of two married men on the basketball team (the other is sophomore guard Tredyn Christensen), and his relationship with his wife has impressed the CUH assistant coach. Storms' Brooklyn, who is 20 year old, has moved out to Hawaii to be with her husband, while continuing her education at the Hawaii campus of Brigham Young University.
"[Brooklyn] has been the most supportive one can be and has been Sawyer's rock through this whole process, and I don't know if he could do it without her," Milligan said. "She will come rebound for him during open gym or come be a court cleaner if that means she can come see Sawyer compete."
Though Storms' unique story means he spends more time at home with his wife than living the typical college life, he said he doesn't feel like he's missing out on those experiences.
Storms started 10 of 12 games during the Covid-shortened Hawaii bubble season in the spring of 2021. He's coming off the bench so far this season and exploded for 17 points in 20 minutes in the season-opening win over Alaska-Fairbanks.
The next men's basketball game is this Saturday against Point Loma University, which is the number one team in the PacWest Conference.