Former CUH hoops star chases his dreams overseas
Rohndell Goodwin is a Chaminade University men's basketball alumni from Oakland, Calif., who has been turning heads all his career to becoming one of the most recognizable players in Swords history. Alongside that status in Divison II basketball and mixing it with hard work and talent, this has led Goodwin to be one of the few from Chaminade University to continue the game of basketball and earn himself a professional contract overseas in Germany.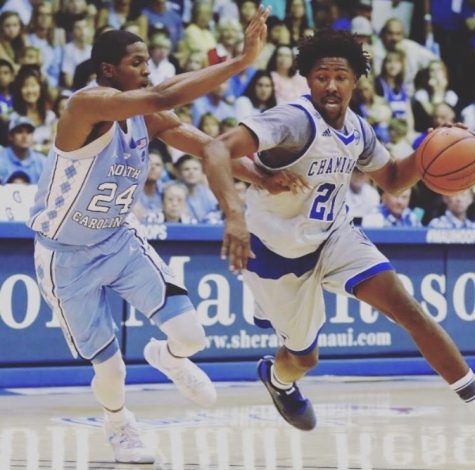 A 6'5 guard, Goodwin had a successful two years with the Swords under current head coach Eric Bovaird. Where he averaged 16 points per game and 6.4 rebounds in the 2015-16 season. and 20.5 points per game and 6.5 rebounds in the 2016-17 season. Goodwin became a dominant force in the Pacific West Conference both years which led to his achievements of becoming an All-Pacific West Conference First Team selection. Also named NABC and D2CCA Second Team All-West Region, and earnt all-tournament team honors in the PacWest/GNAC Challenge, the Maui Jim Maui Invitational and the PacWest Tournament. Rightfully leading to be rewarded with Chaminade's Male Student-Athlete of the Year.
College was the stepping stone for Goodwin as he ultimately wanted to play professional hoops after his college years.
"My two years at Chaminade helped a little because playing in the Maui invitational sometimes you go against some players that are predicted to be drafted in the NBA or going to be a pro in Europe," said Goodwin. " I got to see it first hands what I had to match myself against and see some of the things I needed to work on. I felt if I can produce good numbers in that tournament I know I can do it on a higher level."
Goodwin is having an all-around professional career to this date as he has played in England (Top league) and Germany (Second Division) with his current team at Eisbaeren Bremerhaven who is sitting at the number two seed heading into the playoffs. Goodwin has continued to put his name on his back and produce with averaging 15 points per game and 5.2 rebounds, and 2.1 assists. But basketball is not the only challenge Goodwin will face as he is away from home in a different country across the world and also trying to communicate and gel with the new team.
"The culture for my team is very competitive," Goodwin stated. " we have a lot of players on the team that has something to prove even the coaches. My team is quite good this year we're currently standing in second place with the record of 16-4 with a lot of room to still get better."
Goodwin will head into the playoffs with high hopes and ice in his veins as this is not his first rodeo. Being 28 years of age, he has seen and done it all, in many countries and its just another time on the big stage for him. However, once it is all set and done Goodwin has hopes of a career path that will excite many from his upbringing and young players to come, as he will like to return to the swords and become the coach in the future.
"Some of my long term goals is to reach the highest level in Europe, which is the Euro-League. Leave a stamp on the game I love and put a lot of hours in," Goodwin said. " Once the ball stops bouncing come back to Chaminade to join the coaching staff to become the head coach one day."
The ball has not stopped bouncing for Goodwin yet and his motivation and dreams are still on fire. Talking with Rohndell he is still the young kid with basketball dreams and his advice to young athletes following his footsteps are words to be heard.
"Do not let anybody stop you from doing what you want to do," Goodwin said with passion. "There is nothing to it but to do it. There will always be someone who will try to tell you you cannot do it. Work on your craft, Basketball is art. Perfect painting is never done you can always add to it to make it better. Everybody starts with a blank canvas everybody's picture is going to be different but good in their own way. Be you! Don't be afraid to learn from others."