Top Men's Basketball Players in CUH History
The Chaminade University of Honolulu men's basketball team has produced quality players since its establishment in 1972. The Silverswords have continued to outshine many Division II and Division I programs by beating top-ranked teams like the University of Virginia, University of Texas, Providence College and California. However, there are four players that stand out above the rest as the top in Chaminade history.
4. Rohndell Goodwin: 2015-17 ( 20.4 PPG, 47% FGP 40% 3FG 6RPG)
Goodwin is a 6-foot-5 senior from Oakland, Calif., who made a stamp on Chaminade basketball over his two years with the Swords. Goodwin ranks 17th in career scoring list with 993 points and earned a career scoring average of 18.4 ppg, which is sixth-best in school history. Goodwin is at No. 7 for the best 3-point percentage (39.2 percent) over his two years.
He had a strong senior year (averaging 20.5 ppg), earning an All-Pacific West Conference First Team selection, being named to the NABC and D2CCA Second Team All-West Region, taking home all-tournament team honors in the PacWest/GNAC Challenge, the Maui Jim Maui Invitational and the PacWest Tournament and also was Chaminade's Male Student-Athlete of the Year.
After he left CUH, he signed his first professional contract in Germany's top league and bounced back and forth from England with the Bristol Flyers. Now, in Germany, he starts and averages 15.2 points and 5.1 rebounds for Bremerhaven, which is currently second in the league.
3. Kuany Kuany : 2013-17 (11.9 PPG 7 RPG 2 AST)
Kuany is a 6-7 forward from Melbourne, Australia, who is currently third in the school's career scoring list (1,600) and second in rebounding (876). He is also program's first-ever four-time All-Pacific West Conference selection. With Kuany being one of the most recent players to attend and represent Chaminade, he is still recognized and popular around the school, where he was known for his leadership and passion toward the game.
Kuany is No. 1 in Chaminade history for field goals made with 566 in his total four years playing. The Australian force currently remains at No. 5 for 3-pointers made with 143 and stands at No. 2 with the best 3-point percentage with 42.4 percent. What made Kuany such an all-round force was not just his ability to score and shoot the ball, but his rebounds and dirty work on the defensive end. He earned the No. 2 spot with 876 rebounds and was No. 6 with 91 steals in his total 111 games played. Out of those 111 games, he started 106 of them.
After Chaminade, Kuany signed back in Australia with the top team in the NBL (National Basketball League), the Sydney Kings.
2. Will Pounds : 1976-79 (22.3 PPG, 849 RPG,)
Pounds was a player that is recognized by the school and spoken about to this day, gaining a name as "Mr Chaminade" or "Big Will," and his No. 50 jersey was retired in the 2006 Maui Invitational. The reason being is because he is a true "vet" to Chaminade hoops. Pounds playing his three years of Swords hoops in the late '70s while Chaminade was still recognized as an NAIA school.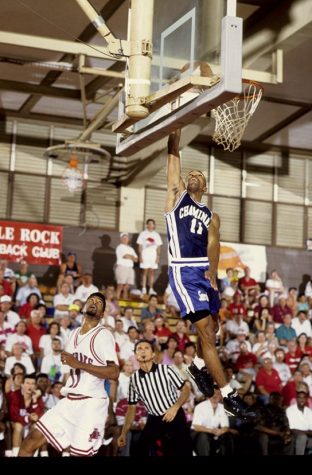 Pounds, a 6-7 center, is ranked currently second in the all-time points (1,964 points) in his three years of play and is second behind George Gilmore in points per game with 22.3. Making 695 shots out of 1,237 placed Pounds at No. 13 for the highest field goal percentage in history. Pounds was not qualified to enter every statistical category, as there was not a 3-point line introduced to NCAA hoops until the mid-80s. That makes it more impressive that he still remains near the top as one of the best scorers Chaminade has ever had.
In 1979, he was drafted by the Portland Trailblazers in the 8th round (159th overall). Later, Pounds returned to Chaminade and was an assistant coach under the legendary Merv Lopes when the team upset No. 1 Virginia in 1982. Pounds died in March 2006 at the age of 49, leaving a touching mark on everyone who met him. Especially to the Chaminade family.
1. George Gilmore : 1990-92 (30.0 PPG, 54.8 FG%, 49.3 3PT%, 257 AST)
To this day, Gilmore still outshines everyone else in the history of Chaminade basketball. Gilmore is a Chaminade Hall of Famer (2017) and was honored with a Maui Invitational All-Star First Team selection, which was amongst some of the best Division I programs in history. He backed up his achievements by being ranked 5th in school history of total points made with 1,531 points in only two years with the Swords.
What makes Gilmore the best player in Chaminade history is his whopping 30 points per game over his two years. Besides his ability to score the ball, his percentages that made him a well-known force throughout Division II basketball. Gilmore is currently ranked at No. 2 for 3-pointers made with 174 in two years. However, throughout those two years, he shot a clip of 49.3 percent, which still holds him at No. 1 in history of Chaminade. Gilmore filled up the stat sheet by also being in the top 10 for assists, with 257 in his college career at Chaminade.
The 6-1 point guard carried his journey on after Chaminade and played for 13 seasons throughout Europe. His playing career ended May 12, 2002.