CUH Hoops Star Gilmore Inducted Into HOF
George Gilmore may seem like the regular family man, living in Kailua with his wife and three children. But if you dig a little into his history you'll realize he is much more.
Gilmore began his college basketball career at Santa Fe Community college in Florida, where he still holds many records and was honored as a junior college All-American. After his successful two years at junior college, Gilmore followed his beloved coach, Daryl Lauderdale, all the way across the country to Chaminade University.
Gilmore, who played at Chaminade from 1990-92, is perhaps the greatest basketball player in school history and was just inducted into the university's Hall of Fame in March.
It didn't take long at all for people to recognize just how talented Gilmore was. His team faced Iowa State in the first game of the 1990 Maui Invitational tournament and his performance did not disappoint. Gilmore had 23 points against Iowa, which set the tone for his two-year career at Chaminade. He finished second in the nation in scoring (28.3 points per game) and earning yet another All-American honor, this time at the Division II level.
"I wanted to be the best player I can be and that was to be the top player in Division II basketball," he said recently. 
His last year at Chaminade proved to be even more successful. He began his season setting the Maui Invitational scoring record after he managed to score 93 points in a 3-game run, leading him to be awarded the Most Valuable Player of the 1991 tournament.
Throughout his senior season of 1991-92, Gilmore averaged 31.4 points, with more than four games of 40 points. He set the school single-game scoring record, that still stands today, against Missouri State, pouring in 49 points. In two seasons with Chaminade, he averaged a school-record 30 points per game and scored a whopping 1,531 points, which is still good for 5th all-time in school history.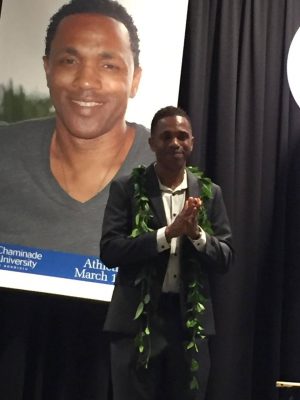 Gilmore finished the season the NCAA Division II National Player of the Year and was named to the National Association of Basketball Coaches' All-Star game. This led to a career of playing professionally overseas for 13 years.
"I went to play overseas for 13 years in Germany, Turkey, Israel, France, Italy and Spain," he said. 
Knowing that the basketball was not going to bounce forever, going back to school was always in the back in Gilmore's mind. A huge part of the decision, also, was falling in love with local girl  from Hilo.
"It was and it helped marrying a local girl so,  it all played out well," he said. 
He knew had to get his degree once there was no more basketball as he was only about roughly 20 credits shy of his bachelor's degree. It was always a part of the plan to obtain something he put hours in working for. He wasn't just doing it for himself; many people were telling him to get his degree, but mainly his parents.
"It was a plan," he said. "I wanted to do it for my parents also."
He finished his degree in 2004, completing one of the goals he always had on his mind. Gilmore is now helping the at-risk youth turn their lives around at a Kapolei detention center.
But Gilmore is someone who Chaminade will always remember due to his accomplishments on the basketball court. His eldest son, Kaleb, is a member of the CUH basketball team.
**Gilmore and Chaminade President Bro. Bernard Ploeger were both inducted into the Silversword Hall of Fame on March 16.