Former CUH Golfer Swings Big in Hawaii Real Estate
Helping others achieve more is a fundamental principle for Chaminade University alumus Justin Taparra. It's easy to lose sight of a graduating class after the alumni the campus. When we are able to follow one of our shining graduates, it's easy to pick up the tracks of Taparra as he makes his way up stream through the rivers of life.
Born and raised in Mililani Mauka, Taparra was "blessed" to be accepted into Kamehameha Schools-Kapalama, which he attended for 13 years and graduated from in 2013. Ever since the third grade, he knew he wanted to follow in his father's footsteps and pursue a career in real estate.
"I always knew that I wanted to go into real estate, just the fact that I can make a difference in people's lives means the world to me," said the 24-year-old Taparra, who is now a full-time real estate agent with Century 21.
The decision to attend Chaminade University came a few months into starting his senior year of high school. He knew that he wanted to go to a private university and heard about the great business program that is offered at Chaminade. So with this, Taparra felt that CUH was a great fit for him because he also wanted to stay home and be able to be close to his family. With also being offered a scholarship for his academic achievements as well as for golf, the decision was made with no hesitation.
In May 2018, Taparra obtained his bachelor's degree in Business Administration.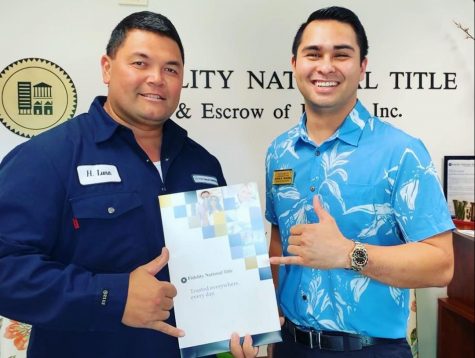 The process of being a successful real-estate agent didn't happen overnight. He started studying for his real estate license in August 2018, months after graduating from Chaminade. After months of studying, Taparra was able to pass the test in December and got his license on Jan. 1, 2019. Prior to receiving his license, he worked nearly six years for Domino's in Mililani, initially the first two years as a delivery specialist and then in a managerial position.
Taparra is currently a real estate agent for Century 21 and has sold 17 properties, totaling close to $15 million in sales, in just his first year on the job. One of his many goals in life is to own 40 properties by the time he is 40 years old, so he can retire and live off his passive income.
"It's not all about you working for your money; it's about having your money work for you," Taparra said.
If Taparra had the opportunity to go back to college and change something, it would be to make more friends. He said he feels that he didn't walk away from college with any close friends other than the ones he had on the golf team. Taparra's only regret after graduating Chaminade was that he didn't reach out and socialize more frequently. He says he missed out on a great opportunity to meet and acquire more friends that would provide him with a greater network of communications to assist him in his current career field.
Besides being successful in his chosen career path, Taparra also played four years of collegiate golf for the Silverswords. Gifted with a beautiful, flowing golf swing, he was able to achieve numerous top 20 finishes on the mainland and at home. A fulfilling golf experience gave Taparra the inner drive to always work hard and strive for his goals.
"Justin was a strong and kind leader when he was with us," said Renee Yuen, who is in her seventh year as head coach for the Chaminade men's golf team. "The other team members found it easy to follow his leadership decisions. His work ethic and positive attitude always influenced the younger golfers to work hard and always try their best."