CUH Volleyball Splits Tough Weekend Matches
The Chaminade University women's volleyball team saw an end to its historic undefeated winning streak of 13 straight victories (12 in the PacWest Conference) by splitting the weekend in an epic battle with top-tier teams from the league: Azusa Pacific (No. 2) and Point Loma University (No. 6).
On Friday, the Swords went head to head with Azusa Pacific University in match that had been brewing for some time as both are in pursuit of that top seed. It was Azusa that left with the win on Friday night as the Cougars beat the Swords 3-0 (25-19, 25-21, 25-22). Azusa's block hurt the Swords as the Cougars out blocked CUH 9-3. The Cougars really clamped down on the Swords' dominant hitters Rachel Reedy and Emma Tecklenburg, who combined to hit just 15 kills but with 12 errors. Azusa went on to keep momentum its way as they served 6 aces and only 3 errors.
"These are the games we must learn from," said senior outside hitter Alana Handy. "In order to get better and reach our fullest potential, we have to have these moments."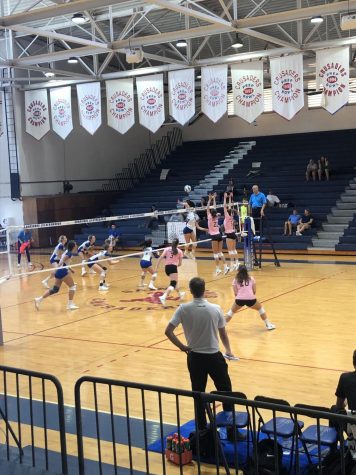 Learning is what the Swords did as they bounced back on Saturday in a battle with Point Loma University held in the McCabe Gymnasium. The Swords beat the Seahawks 3-1 (25-16, 25-13, 14-25, 25-20). After taking a tough fall to Azusa Pacific on Friday, CUH turned around its game and came out on Saturday with a chip on their shoulder. Tecklenburg carried the team to victory after having a tough hitting game on Friday against Azusa where she recorded 9 kills and 7 errors on 24 attempts. She made a statement by putting up 21 kills with 8 errors on 38 total attempts on the Seahawks.
"It's about the bounce back, baby," said CUH sophomore libero Tate Lutu.
Chaminade remains atop the PacWest Conference with a 13-1 record (19-3 overall). Azusa will continue to chase the Swords as it is right behind them with a 10-1 record (19-3 overall). On Monday, Chaminade is still receiving votes in two separate ballots to earn a top 25 nationally ranked status.
The Swords are looking to bounce back into a winning streak for the remainder of the season starting this week as they prepare for Hawai'i-Hilo on Sunday in the McCabe Gym. The match starts at 1 p.m.