Women's Volleyball Beats HPU Then Survives UH-Hilo to Start Road Trip
The Chaminade women's volleyball team was picked to finish second in the PacWest Conference in the preseason poll. Intra-city rival Hawaii Pacific University was picked 10th in the 12th-team league. So even after the Swords swept HPU (25-22, 25-22, 25-19) on Thursday at McCabe Gym, it was the expected result but was still an important victory heading into a six-match road trip.
"Every single game we play is going to be an important win, especially to reach our goal, which is to win our conference title," said Kahala Kabalis Hoke, who is in her eighth year as head coach of the Silverswords.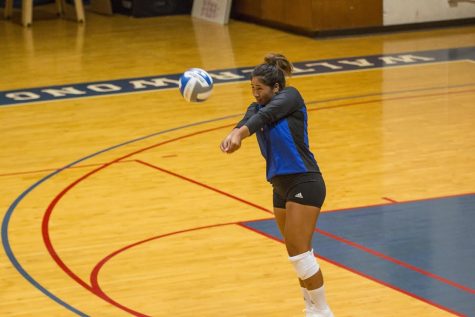 Entering the HPU match, Chaminade had lost its previous two out of the last four. In a tournament in California, Western Washington, the third-ranked team in the country, easily swept CUH 25-21, 25-18, 25-15. Seattle Pacific edged out Chaminade in four sets (26-24, 19-25, 27-25, 30-28).
So Thursday's match against HPU was a much-needed feel-good win before the Swords hit the road.
"It was very important to put our foot down and bounce back from some tough losses," said Leka Kiner-Falefa, a redshirt junior libero for the Swords who transferred from UNLV.
It was a match that never really in doubt. The Silverswords trailed just two times during the game: in the first set they trailed 1-0, and in second set they trailed 17-16. The Swords recorded 42 kills to go along with 10 aces.
Chaminade outside hitter Emma Tecklenburg led the way with 10 kills. Kiner-Falefa dealt four aces, increasing her total to a PacWest leading 17, and also had 10 digs.
"It's still early on; we have so much potential we haven't even tapped into it yet," Hoke said. "Once we start to find a rhythm, I think we will be pretty scary, so it's just about finding that rhythm."
The Silverswords followed up the HPU win by beating UH-Hilo in a thrilling five sets (21-25, 25-20, 25-22, 20-25, 15-11) to maintain their top spot in the PacWest Conference. Junior right-side hitter Rachel Reedy recorded a match-high 17 kills. Freshman outside hitter Annah Rivera had a career-best 15 kills. Kiner-Falefa added 17 digs.
The Swords (8-2 overall, 2-0 PacWest) will soon be in California where they will face five of the bottom six teams in the conference. Being on the road for over a week and a half can be a tough task for any team especially trying to stay focused and taking care of their business.
"We plan to take to take it game by game, that is our theme for the road trip coming up," Kiner-Falefa said. "It's extremely important that we don't get a head of ourselves up there in California and return home with five wins."
The Swords will play Notre Dame De Namur (2-7, 1-1) to start off the California swing on Saturday. They will finish the road trip with a match against Academy of Art (3-6, 1-1) on Oct. 5. Chaminade has won 10 straight matches in the Northern California area.