Former Chaminade Basketball Players Hoop Around The World
Three members of the 2016-2017 Chaminade Silverswords Basketball team are currently playing professional basketball. Kiran Shastri, Chaminade's former three-point specialist, has taken his long-range shooting skills to Japan, while Kuany Kuany is playing in Australia and Rondell Goodwin is starting his career in England.  All three players are adjusting to a new life and new style of play and believe that their time at Chaminade as student-athletes has prepared them greatly for their new professional careers.
"Being in a new place, experiencing a new culture while getting to play the sport I love, what else could I ask for?" Goodwin said from England during a FaceTime interview this month.
After graduating in Spring 2017 with a degree in communications, Kiran Shastri was presented with opportunities to play in both Colombia and Japan. In Hawaii, Shastri was exposed to Japanese culture, which made him feel comfortable with the transition playing for the Agleymina. While at Chaminade, Shastri set the program's record in all-time 3-point field goals and became the 16th player all-time to score more than 1,000 points. On the court in Japan, Shastri is preparing to play a much more physical game.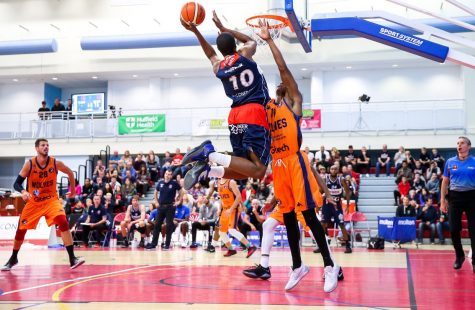 "They allow a lot more hand checks and bumps so I had to make adjustments to that," Shastri said.
Living-wise Shastri had to adjust to how small things are in Japan.
"Everything in Japan is smaller from the showers, bathrooms, and doorways," he said.
Off the court, the former Silversword has been exposed to valuable experiences including climbing the 12,388-foot Mount Fuji and eating Kobe beef in Kobe, which are experiences he will carry for his lifetime.
"You don't want to have any regrets in life especially with a game that you love to go out there and do your best to make it a reality," he said.
Rohndell Goodwin, who played for the Silverswords for two seasons, finished last year averaging 20.5 points a game with an impressive outing in the Maui Jim Invitational on ESPN. The guard's ability to score in traffic and from long range landed the 26-year-old a spot on the Bristol Flyers in Bristol, England. Bristol is a city known for a thriving art culture, vibrant nightlife, and medieval architecture, and Goodwin has been soaking in all of the experiences.
The guard, one of three Americans on the team, has signed a one-year contract with Bristol with aspirations to continue to progress and draw the attention of scouts from the NBA's G League with the dream of playing in the NBA.
"Never underestimate your ability and trust the process and good things will come," said Goodwin, who added that his time in Hawaii, which for the California native was like living in a foreign country, greatly prepared him for life overseas.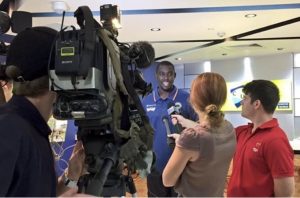 Kuany Kuany, finished his career at Chaminade ranked ninth on the school's career scoring list (1,290 points) and sixth in rebounding (698). After his impressive four-year career for the Silverswords, Kuany signed a two-year contract with the NBL club Cairns Taipans. The 6-foot-7 Kuany has played point guard, shooting guard, and small forward in the preseason for the Taipans.
Off the court, he has enjoyed working with youth. Kuany, who spent most of his childhood in Australia enjoys giving back to the communities that he grew up in.
"I love working with the kids and going to the schools," said Kuany, who grew up in Australia. "They're big fans of the club, and it's great to see how excited they are for basketball."
Like Shastri, Kuany is preparing for the physicality of professional ball.
All three former Chaminade student-athletes are eager to start their professional careers overseas playing basketball. More so, they all thank Chaminade for their growth as individuals to take on the world. With new cultures to learn, the value of "adaptation to change" learned at Chaminade has already played a part in the three athletes' careers.
I am going to continue to grow as both a player and person and live out this dream I have had since I was a kid," said Shastri.