From Pro Baseball to Chaminade Hoops
Standing at 6-foot-9, Chaminade's Matthew Southard is hard to miss. Pretty quickly people can conclude that he is likely a forward on the Chaminade basketball team, which he is. However, before transitioning to college basketball, Southard was a professional baseball player drafted by the Philadelphia Phillies.
Now this two-sport athlete is here at Chaminade, a reserve on the basketball team who is preparing to run for student body president.
Originally from Norman, Okla., Southard excelled on the baseball diamond. While playing in a collegiate summer league living out of a two-star hotel in a one-star town, Southard received a phone call from Phillies saying he had been drafted in the 28th round (841st overall) in the 2013 first-year draft.
While playing pro baseball Southard learned many life lessons. Through his time in the minors he learned hard work, and just as important the dugout introduced the Oklahoma native to a bevy of unique cultures. While playing for the Golf Coast Phillies minor league team Southard found himself traveling through out the southeastern United States befriending teammates from the Dominican Republic, Venezuela and Canada.
"In pro ball there were many guys from all over the world, many of them could not speak English, he said. "Because of these cultural differences my skill to be accepting of all kinds of people was honed,"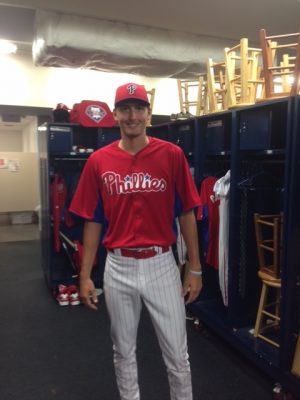 Because of this, after his stint in pro baseball in which the lengthy righty compiled 15 strikeouts in 15 games, Southard decided to attend Chaminade as a major in International Trades. "Chaminade is a perfect place to get exposure to multiple cultures and have the ability to work with people from all over the world, much like my baseball experience."
Chaminade is consistently ranked one of the most diverse schools in the country with people from all over the world connecting with each other. According to chaminade.edu, the diversity on campus breaks down with 86 percent of the students identifying as non-white.
In between the basketball practices Southard's workload consists of 18 hours, as well as being a member of the Hogan program where he is the head of Fundraising for summer trips.  In addition he is the vice president of two clubs (Rotary and Fitness), as well as working with Non Profit (Hoʻokupaʻa), a locally based Nonprofit that educates businesses on tax incentives.  With all the work Southard remains very focused.  He manages all of this workload with his support system that includes his parents, girlfriend Sarah, and faith.
"Matthew is a very driven individual who is able to make a connection with everyone he meets. He also cares deeply about the school environment and does everything he can to improve things," said Hogan classmate Judy Ng.
Next up for Southard is running for CSGA President, which will be voted on, between March 30 and April 1. He is running because of his "love for this university." He believes there are things that can be made better for the years to come and that his ticket is the most qualified to achieve these changes. One of the major issues he is tackling is attendance of home events, whether its athletic or non-athletic events.
"Our crowds are some of the worst in our conference and we will change that," Southard said.