'Enthusiastic' crowd watches Maui Invitational at CUH
Hoops, hot dogs and haupia what more can one ask for?! It's that time of year again. On Monday Chaminade had its yearly Maui Invitational watch party in the Vi & Paul Loo Student Center in Clarence T.C. Ching Hall. Students came and enjoyed delicious food and supported our Chaminade Silverswords men's basketball team against the nation's No. 4-ranked team North Carolina (UNC).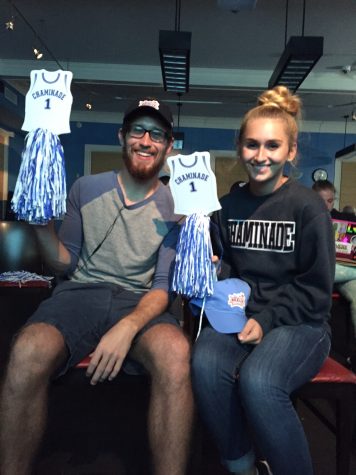 Students started flocking to the Loo Center as early as 30 minutes before game time and the excitement was high in the room. Katie Michels and Payton Sorg two seniors at Chaminade were among the eager supporters to show up early. Sorg is a big basketball fan who is very interested in how the Swords hold up against a team of UNC's caliber.
"I came early to show my support to the Swords," said Sorg, a senior. "As a big basketball fan this will be a very interesting game and a tough task for the guys, so everyone here just has to cheer them on."
As it got closer to game time students enjoyed some of the delicious foods that were served: hot dogs, macaroni, haupia, chips, and chocolate. The Loo Center started to fill up and all the chairs and couches were packed with students. Vanessa Ignacio a senior at Chaminade really enjoyed the food but she had a clear favorite, the hot dogs.
"The food that was provided tonight was pretty good," said senior Ignacio, vice president of communication of the Chaminade Student Government Association. "The hot dogs and the chili were probably my favorite tonight."
When the game started and throughout the first half everyone was eagerly watching what was happening on the screen. Twelve minutes into the first half, students and staff faculty cheered when Kiran Shastri made a sweet 3-pointer to get the Swords to within 5 points, making the score 31-26. Michels a senior was excited that the game was now so close.
"This is very exciting and fun seeing our basketball team be behind by only 5, against one of the best teams in the country," said Michels.  
As the halftime buzzer rang, CUH had fallen behind and was down 50-34. Bo Diego, a junior at Chaminade, kept his spirits high and was happy with how the guys played the first half.
"I think the first half was pretty good by the Swords," said Diego. "The guys made some pretty awesome 3-point shots, and then also Nate [Pollard] made a dunk who was pretty awesome to being 7 foot-[1]."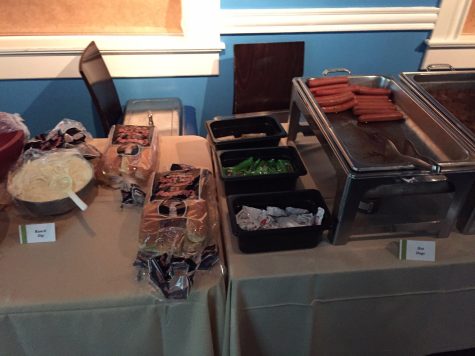 During halftime Ignacio and Teodosio conducted a raffle. All students who entered were eligible to win one of several prizes. There was also a chance to win a SWAG bag by correctly answering a question about the Maui Invitational. The students and staff eagerly looked forward to a better second half.
Unfortunately the second half was disappointing. The scoring gap got wider and although the Swords fought valiantly, they lost 104-61. Even though the team lost, students and staff were proud of our team and look forward to another similar event.
"I think the event was pretty good. The turnout was great," said Teodosio of the more than two dozen students who watched the game. "I'm glad everyone came out to support our men's basketball team. The food was good, the company was enthusiastic. Although we wish the team had won, we are still proud and big Swords fans."