Silverswords volleyball team wins convincingly in last home game
On Saturday the Silverswords volleyball team hosted Hawaii-Hilo at Chaminade's McCabe Gymnasium. When the two met earlier this year at Hilo's home gym the 'Swords won in three straight sets. This Saturday was no different, and the Swords proved yet again to be too much for Hilo and won 3-0.
The Swords got of to a shaky start early in the first set displaying uncharacteristic errors and miscommunication. CUH found themselves falling behind 13-9. Trailing and not able to find their rhythm, CUH called a timeout to try to turn things around. The Swords ended up coming back and eventually pulling away for a 28-26, 25-23, 25-14 victory on Senior Night. 
"I think we had a long week, and it was a long late night last night, so I just tried to encourage them to find the rhythm and to continue to play hard and make sure every time we stepped on the court we were better than we were before," said head coach Kahala Kabalis-Hoke of the Silverswords.
Saturday was a special night at Chaminade. Seniors Ku'ulei Lynch, Kim Spring, Kasse-Ann Kiriu-Dela Cruz, Cassie Rushlow and Waihilo Chartrand played their last home game. Spring, Chartrand and Kiriu-Dela Cruz had an impressive defensive night with 14, 13 and 8 digs, respectively. Rushlow and Lynch combined to have 9 kills.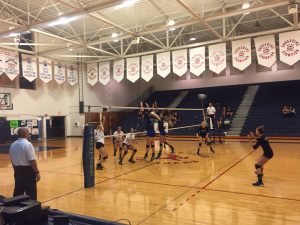 At the start of the second set CUH and Hilo continued the battle back and forth. Midway through the half both teams were neck and neck, CUH barely leading 11-10. Both teams were trying to get some sort of advantage. Midway through the set a couple of errors and communication slips from Hilo allowed CUH to build a lead of 20-13. The Swords were not in their usual good form and were barely able to hold onto their lead. They finally took set two 25-23.
"We were at a level 5 out of a 10, but I mean I am proud that they fought because they battled with fatigue and lack of rest. We made it happen tonight and we got the the victory," said coach Kahala.
Emma Tecklenburg, a freshman at Chaminade, did not make it any easier on Hilo with her outstanding 14 kills. In the final set the Swords found their stride and never allowed Hilo back into the game. The Swords were too fast and strong for Hilo in the last set. CUH took the last set convincingly 25-14 with a strong team effort.
"We played together as a team," Kabalis-Hoke said. "They battled together as a team through our shortcomings. We made sure to stay together and rally together. I think that we managed to fire each other up. The sidelines were very loud, energetic, and positive."
Hilo's record dropped to 7-9 in the PacWest (9-12 overall). With the win the Silverswords improved their PacWest record to 8-8 (14-11 overall) making them No. 6 in the conference.
CUH will finish up its season with three games in California before they return home to play their final game against their rival HPU on Friday, Nov 18.