Chaminade adds to athletic training staff
Last year, head athletic trainer Christopher Cornell and assistant athletic trainer Rebecca Duran were the main trainers covering Chaminade's 10 sports and more than 125 student-athletes, with their former graduate assistant trainer having limited time available. Kelsey Tomaszewski, 24, is the new graduate assistant trainer for the Silverswords and will be covering men's and women's cross country in addition to the women's basketball team.
"She's a great addition after being understaffed last year," Duran said. "Having her around has been a huge help and she has brought her skills and different characteristics that have just made us a well-rounded athletic training family."
After being at Chaminade for only about a month, her presence in the training room is already greatly appreciated.
"Chaminade is awesome," Tomaszewski said. "It feels like it's going to be a great experience. Everyone is really nice, the athletic department is awesome and the athletes are all really good so far."
A native of Daytona Beach, Fla., Tomaszewski got her start in athletic training at her high school, Spruce Creek High School in Port Orange.
"I wanted to be able to help athletes and I liked that athletic training takes you through everything," Tomaszewski said. "So, you do the rehab, you do the return to play and you're on the scene for when the injury actually happens."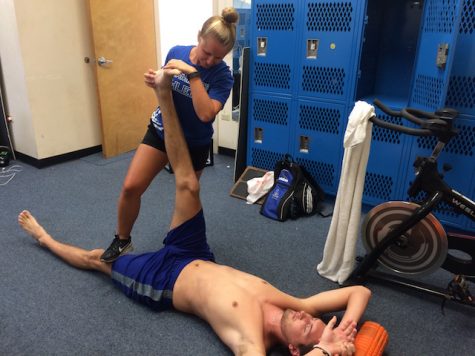 Not only did she help athletes in high school, she also was one. Tomaszewski played volleyball and softball. In softball, she was a middle infielder and pitched and in volleyball she was a libero and defensive specialist.
In 2014, she graduated from the University of Florida and earned her bachelor's degree in Athletic Training. During her time in its athletic training program, she worked with the Gators' women's volleyball, football and baseball teams. After graduation, she remained close to home and accepted a yearlong internship with a small Division II school, Embry-Riddle University in Daytona Beach, Fla. There, she worked with the women's volleyball team and the men's and women's tennis teams.
Coming from a large and athletically successful Division I school where athletes and trainers are provided with the best equipment and optimal space, Tomaszewski had to make some adjustments working at a smaller school. Some of these adjustments included using your hands more and using the material you have for more than one purpose.
"You don't have everything at your fingertips to be able to use. You have to use more creativity," she said.
From Embry-Riddle University, she trekked 4,743 miles to another small Division II school, Chaminade University of Honolulu.
"I wanted to experience something totally different and experience Hawaii," she said in her reasoning why she chose Chaminade. "I think Chaminade is a great school, and Chris and Rebecca are really awesome."
Tomaszewski has loved her first month in Hawaii but is also hitting the books. She is working on her Master of Business Administration degree at Chaminade. Eventually, though, she wants to get a degree in healthcare administration.
In her spare time, she enjoys going to the beach, looking at Hawaii's beautiful scenery, exercising and just being outdoors. Furthermore, she has recently gotten into hiking, since Hawaii is the perfect place for it.
"I'm excited to bring something new to Chaminade, and I think it will be a good experience," she said.