2016 NBA Playoff – Series Breakdown and Predictions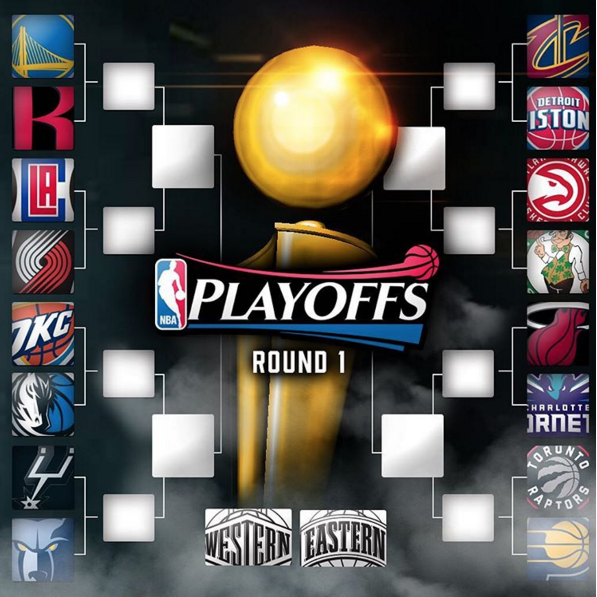 The 2015-16 NBA basketball season has given us one of the most exciting season finishes the NBA has seen in awhile.
On Wednesday, Kobe Bryant went out in legendary fashion, scoring 60 points and leading the Lakers to a win in his final game. We also witnessed history with the Warriors  setting a new mark for NBA excellence. The "Dubs" took down the 20-year regular-season record that no fan or critic thought would ever be broken. Stephen Curry and the Warriors finished the year 73-9, beating the 1995-96 Chicago Bulls record of 72-10.
There's more excitement coming your way though, the first round of the NBA playoffs start Saturday as the quest for the coveted Larry O'Brien Trophy begins!
PLAYOFFS : ROUND 1 (best of 7)
Eastern Conference
Matchup: No. 1 Cleveland Cavaliers (57-25) vs. No. 8 Detroit Pistons (44-38)
Prediction: Cleveland in 4
The Cleveland Cavaliers are the frontrunners to come out of the East because of superstar Lebron James. The Cavs are up against a young and exciting Detroit Pistons squad led by All-Star center Andre Drummond. While the Pistons did lead the regular season series against the Cavs 3-1, a focused and hungry James, with the help of All-Stars Kyrie Irving and Kevin Love will be too much for the Pistons to match up against.
Matchup: No. 2 Toronto Raptors (56-26) vs. No. 7 Indiana Pacers (45-37)
Prediction: Raptors in 5
The Raptors are coming off their most successful regular season, winning a franchise-record 50 games, thanks to likes of guards Kyle Lowry and Demar Derozan. With the resurrection of Paul George this year, the Pacers find themselves back in the playoffs after a one-year absence. George will lead the Pacers to win one maybe two games this series, but the size, strength and speed of the Raptors will be enough for them to win their first playoff series since 2001.
Matchup: No. 3  Miami Heat (48-34) vs. No. 6 Charlotte Hornets (48-34)
Prediction: Heat in 6
A seasoned, veteran led Miami Heat squad will look to make a huge run this postseason. While Chris Bosh is still out of the lineup dealing with blood clots, guards Dwyane Wade and Goran Dragic and big man Hassan Whiteside look to carry the Heat through this series and ultimately to the Eastern Conference finals. Kemba Walker and the Charlotte Hornets aren't the same Hornets that the league is used to seeing. With the help of new head coach Steve Clifford, the Hornets are top 10 in the league in both offensive and defensive efficiency.
Matchup: No. 4 Atlanta Hawks (48-34) vs. No. 5 Boston Celtics (48-34)
Prediction: Celtics in 7
These four vs. five matchups are always barnburners. The Hawks being led by big men Al Horford, and Paul Millsap look to win a playoff series in consecutive seasons for the first time in five years. They are going up against a gritty Celtics team that lacks superstars but plays with a lot of passion and heart. Isaiah Thomas is coming off a career year averaging 22.2 ppg and 6.2 apg. Look for him to be in full force this series as they will steal this series against the Hawks.
Western Conference
Matchup: No. 1 Golden State Warriors (73-9) vs. No. 8 Houston Rockets (41-41)
Prediction: Warriors in 4
These two teams hate each other. This is a rematch of the 2015 Western Conference Finals. The Golden State Warriors are coming off a historic year. They broke a multitude of records, from the best regular-season mark in NBA history to Steph Curry's 402 3-point makes. Look for the Warriors to completely dominate this series. The Rockets will not back down, though, led by All-Star James Harden. He will do anything in his power to take down the"Dubs." The dynamic trio of Curry, Klay Thompson and Draymond Green will, however, overwhelm Harden and the Rockets.
Matchup: No. 2 San Antonio Spurs (67-15) vs. No. 7 Memphis Grizzlies (42-40)
Prediction: Spurs in 4
An experienced, talented and well-balanced Spurs team per usual takes on a depleted Memphis Grizzlies squad. The Spurs this past season tied the NBA all-time for most home wins in a season going a spectacular 40-1. The Grizzlies have been battling injuries all season, from starting center Marc Gasol to starting point guard Mike Conley. Look for the Spurs to over power the Grizzlies in all aspects of this series.
Matchup: No. 3 Oklahoma City Thunder (55-27) vs. No. 6 Dallas Mavericks (42-40)
Prediction: Thunder in 5
Thunder All-Star guard Russell Westbrook and All-Star forward Kevin Durant team up as the highest-scoring duo in the league. There is no shortage of production from these two, but the Achilles heel of this Thunder team will be their bench. Can the bench players step up to allow the Thunder be a worthy opponent to the likes of the Warriors and Spurs? In this series, look for Mavericks All-Star Dirk Nowitzki to be in full assassin mode as they try and slow down the pace against the run-and-gun Thunder.
Matchup: No. 4 Los Angeles Clippers (53-29) vs. No. 5 Portland Trail blazers (44-38)
Prediction: Clippers in 6
This will be the most exciting series of the first round. While the Clippers started off the year as possible title contenders, off-court distractions and injuries to Blake Griffin has plagued this team. But one thing is certain Chris Paul — he has carried this team the whole season and will continue throughout the playoffs. The Clippers will be facing a Trailblazers team led by dynamic backcourt duo, Damian Lillard, and C. J. McCollum. The Blazers worked extremely hard to get into the playoffs after they lost four starters in what appeared to be a rebuilding year. Look for the Blazers to put up a good fight, but the size and skill of the Clippers will be too much to handle.
PLAYOFFS : ROUND 2 (best of 7)
Eastern Conference
Matchup: No. 1 Cleveland Cavaliers vs. No. 5. Boston Celtics
Prediction: Cavaliers in 5
Cavs guard Kyrie Irving and Celtics guard Isaiah Thomas will headline this matchup, but the big three of the Cavs will over power the Celtics D and take this series.
Matchup: No. 2 Toronto Raptors vs. No. 3 Miami Heat
Prediction: Raptors in 6
Vet Dwyane Wade will do everything in his power to win this series, but the young guns from the 6 will be too much to handle for the aging Heat.
Western Conference
Matchup: No. 1 Golden State Warriors vs. No. 4 Los Angeles Clippers
Prediction: Warriors in 5
Steph Curry vs. Chris Paul is always an exciting matchup. Curry has had a clear advantage over Paul this year, putting up an astonishing 31.8 ppg, almost 6 asts, and 5.5 rebounds in four matchups this year.
Matchup: No. 2 San Antonio Spurs vs. No. 3 Oklahoma City Thunder
Prediction: Spurs in 6
One of the most anticipated matchups this postseason is reigning Defensive Player of the Year Kawhi Leonard vs. All-NBA Kevin Durant. The Spurs depth and experience will overpower the dynamic duo led Thunder of Durant and Westbrook.
PLAYOFFS : CONFERENCE FINALS (best of 7)
Eastern Conference
Matchup: No. 1 Cleveland Cavaliers vs. No. 2 Toronto Raptors
Prediction: Cavs in 6
In what will be an exciting uptempo series, with a barrage of dunks, blocks, and flashy passes, the Raptors would put up a great fight taking it to 6 games, but Lebron James will cruise into his sixth-straight NBA finals appearance.
Western Conference 
Matchup: No. 1 Golden State Warriors vs No. 2 San Antonio Spurs
Prediction: Warriors in 7
In what is the most anticipated playoff series in recent memory, two completely different but strangely similar styles of play will match up. The Warriors and Spurs should be the NBA Finals matchup; they are the NBA's top two teams. Look for an amazing series with excellent coaching, fun tempo, a little chippiness, and there will not be a shortage of 3-point attempts and makes.
NBA FINALS
Matchup: Golden State Warriors vs. Cleveland Cavaliers
Prediction: Warriors in 6
A rematch of the NBA Finals last year, Steph Curry and the Warriors are on the quest for back-to-back titles while Lebron is trying to secure his legacy by getting ring number three. The Warriors' ability to play small ball offensively and defensively will pose the same problem they gave the Cavs last year. Hopefully, the Cavs watched some film on last year and made the changes, but the Splash Brothers will shoot their way to back-to-back titles.