CUH sports bevy of dual-sport female athletes
Keani Passi, a senior from Pearl City, Oʻahu, was named a First Team all-PacificWest Conference performer and PacWest Newcomer of the Year, All-West Region Second Team and an Honorable Mention All-American. She was the first Silversword volleyball player to earn all-region honors.
After having a great volleyball season, Passi wasn't ready for her college playing days to be over. She wanted to play another sport, but she didn't know whether it should be basketball or softball. Being that she played both sports in high school, she ultimately felt that she would be more effective on the softball field. After talking to her parents about what was next, she jokingly told told them about playing softball. Passi had never really thought of playing collegiate softball, but she got excited about being competitive again athletically.
After taking a couple months off after volleyball season, Passi talked to the softball head coach, Kent Yamaguchi.  He was excited to hear that she was interested in playing softball, and he and the team welcomed her with open arms. After not playing competitive softball since her senior year in high school, which was in 2011, Passi has already wowed on the field. She was named PacWest Softball Player of the Week just two weeks into the new season.
"I wanted my brother and sister to see me play a sport that they're both really good at and hopefully get them to see their potential and want to pursue their athletic dreams in college as well," Passi said.
Passi is one of eight women at Chaminade who play two sports. With an influx of two-sport athletes this spring, the bulk of them playing tennis, Chaminade's rosters in its six sports (with a total of 80 athletes) are bigger than ever before. Some of these athletes transition from outdoor sports to indoor sports and vice versa.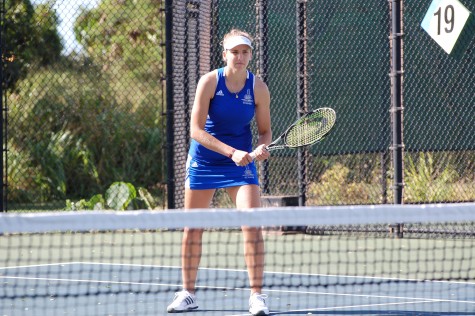 Four of the eight two-sport athletes this spring are Ellissa Bio (cross country, tennis), Kim Spring (volleyball, tennis), Passi (volleyball, softball), and Kristle Henry (cross country, basketball).
"I have never played competitive tennis before coming to Chaminade," said Spring, a junior from Bern, Switzerland. "It was just something me and my dad would do on our free time."
Going from playing volleyball that is an indoor sport to tennis, Spring said "was nice and refreshing but also tiring because the hot sun at noon when we practice makes everything a little harder."
"She really wants to play well," said tennis head coach Ty Aki. "The drills we do with Kim brings out what her game is like, and she is seeing her potential as a tennis player as well as a volleyball player. She is really competitive."
This year the women's tennis team has 11 athletes on their roster. Aki said that he thinks Chaminade never had more than six. Having 11 players on the team benefits them because he is able to put them in the third doubles or position 5 and 6, adding much-needed depth to the roster.
Having athletes that play other sports, they each have their own athleticism that they bring to tennis. They are all good enough to build a team with.
The tennis team is ranked near the bottom of the PacWest Conference with five more matches left this season.
Passi and her softball team are 4-6 overall, having already split three doubleheaders against island rivals BYU-Hawaii (twice) and Hawaii Pacific University.
Two-sport athletes:
Suncica Bakic : volleyball (fall), tennis (spring)
Ellissa Bio : cross country (fall), tennis (spring)
Kristle Henry : cross country (fall), basketball (winter)
Mary-Lynn Johnannes : soccer (fall), tennis (spring)
Keani Passi : volleyball (fall), softball (spring)
Alexa Shah : soccer (fall), cross country (fall)
Kim Spring : volleyball (fall), tennis (spring)
Lauren Uehara : soccer (fall), tennis (spring)