Maio soars into CUH record books
Lilia Maio is all over the Chaminade women's basketball record books.
She is the all-time leader in career rebounds, scoring average and double-doubles. She is the No. 2 all-time leading scorer, the No. 2 all-time leader for field goals made and the No. 2 all-time career leader in blocks.
And she has achieved these record-breaking feats in just 2 ½ seasons as a Chaminade Silversword. By the end of her senior campaign, she will most likely be the leader in all of the categories above that she already doesn't own.
Fellow junior teammate, Kristle Henry, had this to say about Maio.
"I love playing with Lilia, she is extremely hardworking and very humble," said Henry. "She is one of our best players and gives it all during our practices and games."
Maio was destined for success on the court ever since she started playing in the local Manoa leagues at the age of 7, under her dad who was the head coach. She was placed into basketball at a young age, as her parents encouraged her to play the sport that they loved.
She was torn when it came to making her college decision, growing up it was her dream to continue her basketball passion and play college basketball, but part of Maio was willing to give up her hoop dreams to experience life on the mainland and go to school somewhere on the west coast.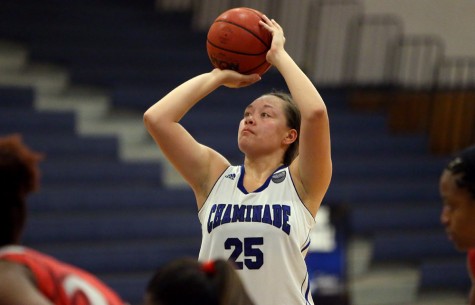 "I chose Chaminade because it was the best option for me coming out of high school and it gave me the opportunity to get a higher education and play (basketball) in front of my family and friends," said Maio. "They are my main support system, and I knew I could come into the program and make a big impact."
Maio knew that the transition to college wasn't going to be easy. Being a student-athlete is no walk in the park, but being a student-athlete, while commuting to school, working part-time and fulfilling the required hours at a selected elementary school that is set by her major are accomplishments very few are able to achieve.
Living in Nakakuli on the west side of Oahu, Maio wakes up every morning at 4:30 a.m. to get ready for practice. She drives the 45 to 50 minutes (depending on traffic) to Chaminade in preparation for 6 a.m. practice. On Tuesdays and Thursdays she doesn't get to leave school until 4 p.m., and after picking up her siblings from school, Maio won't get to home until 6 p.m. Mondays, Wednesdays, and Fridays are her days to go to her selected elementary school and complete her observation and participation hours for her elementary education major. She also works a couple days a week at the Carlson Fitness Center.
"Personally, my family and my team drive me to come back to practice every morning," Maio said. "We may not be as successful as we want to be in winning games. It is tough to have 6 a.m. practices for at least five days a week. But we all do it as a team so everyone knows the struggle of waking up early."
While Maio has achieved great success on the court, the Lady Swords as a unit have not yet reaped the fruits of their labor. In the past 2 1/2 season the Swords have a standing record of 14 wins and 50 losses.
"Each game I want to do well and put up good numbers for my team," Maio said. "I know I'm one of the main players on our team and I should be doing my best each game. It is hard to not get as many wins as we want. As a team, we take responsibility for what we may have done wrong to put ourselves in that situation. We all want to win, who doesn't! We just need to take each game one at a time and improve in practice so we can be successful."
Catch Maio and her teammates in action when they come back from their Bay Area roadtrip in their upcoming home game on Feb. 11 at McCabe Gymnasium against crosstown rivals Hawaii Pacific.