Oscar Pedroso hopes to help Silverswords get back on track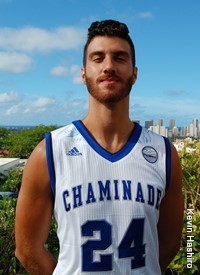 Off to a rocky start this season, the men's basketball team will try to make a new start for conference. Oscar Pedroso, a senior from Leca da Palmeira, Portugal, hopes to help Silverswords back on a successful track.
The 6-foot-4 guard has had two starts this season against Alaska Fairbanks and St. John's, contributing big minutes for the Silverswords. Pedroso is averaging 10.4 points per game, while his best performance was a standout game against Alaska Fairbanks with a career-high 23 points.
But Chaminade lost that game and has started 1-6 this season, including Thursday's disappointing 92-89 overtime loss to Concordia to start the PacWest season.
"Last season we started the season with more wins. However this year, we started with less wins than expected," said Pedroso. "I think our season is going to turn around and we will finish with a better record. We are good at getting the lead we now need to learn to maintain it."
Pedroso began to stand out for the Silverswords late last season, averaging 14.8 points in the final five games played. Also, he was shooting 58.1 percent from the field down the stretch. Pedroso added 17 points to beat Holy Names last season at home. The Portugal native scored a season-high 17 points in two February wins against Hawaii Pacific and Holy Names.
With a roster full of guards, big teams have the advantage inside, and that is where Chaminade is at the disadvantage. However, Pedroso is a strong player who can play inside out for the Silverswords. Being able to make strong drives to the basket will help Chaminade's outside game as well.
"Playing against bigger teams we try to speed up the game," he said. "Being able to play with a fast tempo will make the bigger guys on the other team feel out of their comfort zone, giving us the advantage to run the court and get transitions and let our shooters get the ball with better looks at the basket."
Pedroso previously attended Cuesta College in San Luis Obispo, Calif., where he became a two-time Western State Conference first-team honoree and was the WSC player of the year in 2013-14. He also made the first team for the California Community College Athletic Association.
Pedroso led the Cougars to the WSC North Division title, allowing the team to attend the  CCCAA Southern California Regional playoffs. He also finished with 997 points in just two seasons, ranking sixth at Cuesta College.
In high school he played AAU basketball for FC Porto and G.D.B.Leca and won a National Championship in 2007 and was a member of the junior national team in Portugal.
"Being able to do my job and when we work together our team is dangerous, and it is good to be on a team where we can make a lot of upsets in the PacWest," said Pedroso. "Putting in the time and effort in every game will put us back on track and in the spot that I believe we should be in."
Chaminade will play Holy Names on Saturday. Tipoff is 7:30 p.m.