Lady Swords prepare to make history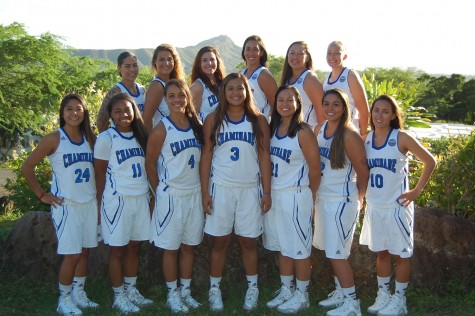 As the women's basketball team prepares to take the court on Thursday, Nov. 19, against Alaska, the Lady Swords have one goal in mind — to keep improving. With a huge leap in win's last season compared to previous seasons, head coach Bobby Keanini plans to keep the momentum going by encouraging each of the girls to become leaders of the team.
"We have quality players coming back (and) experience, and that helped a lot," said Keanini who is in his sixth year of coaching at Chaminade. "We're looking for some leaders now to help us get over that hump, and for them to grow from girls to women is a big deal."
With seven wins last season, as many as the previous nine seasons combined, Chaminade is hopeful that it can carry over the momentum into this year's team.
Keanini will be relying on returning players such as seniors Kennedi Akana and Shayna Kawakami, who he needs to step up and fill those leadership roles. Akana has been with the team all four years and has watched it grow from a 4-45 record her first two years to 7-17 last season.
"We have improved in speed and skill and with the extra height we gained a lot of advantages," said Akana, a captain for the Swords. "I only see good things happening for us this season. The girls and I are hungry for victory. Coming from last season to this season, it's obvious to see that during the summer the girls have been putting in great work. We are stronger faster and have better stamina then we did last year. We are fit and in shape, and we are ready to go."
The Lady Swords tied for ninth in conference last season, yet they were still picked 12th out of 13 in preseason PacWest Conference rankings for the 2015-16 season. Although some might take that as a slap in the face, the Lady Swords are using that to fuel their fire.
"It's extra motivation," said junior Kristle Henry, starting point guard for the Swords. "Also, it's better than any of the other years because we aren't 13th this year. But it's definitely motivation because as a team we want to prove that Chaminade can make history."
Keanini felt that many of the players came into the program not understanding the level of play and the intensity that it takes to play against teams who are a lot bigger, faster, and more mature. Part of the growth that they have had undergo as a team was adjusting to the physicality.
"If we can do that, then we will make big strides this year," said Keanini.
Chaminade is one of the smaller teams in the conference. With just one player taller than 5-foot-10, attention to detail is critical.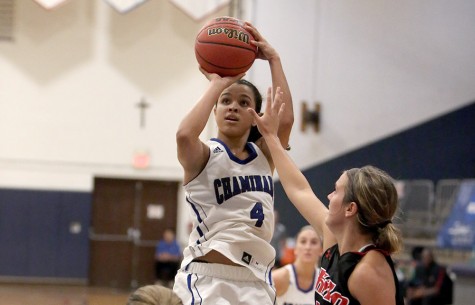 "We've always been small, I don't mind being small," Keanini said. "A player like Kristle Henry who leads the league in steals (2.7 per game) comes out really big with her athleticism and speed. Our team defense comes into play where we use the quickness and try to disguise, or hide, the height that we have. Those kind of things are little things, but again, it's big for us."
Chaminade's second- and third-highest scorers from last season, Katie Buskey (11.8 points) and Glacen Florita (10 points), are gone, but the Lady Swords return their best player.
Junior forward Lilia Maio led the team with 13.2 points and 6.9 rebounds last season. Through just two seasons, Maio already has the third-most points (581) and second-most rebounds (326) in school history.
Transfer Courtney Kaupu averaged 11 points and 4.8 rebounds per game back at Centralia College in Washington. The new addition brings a game-ready attitude.
"She's ready to play at the level of play that we're at," Keanini said. "She's always been the leader, Coming from her high school (she) was just a quality player. So she brings in knowing how to win, already. She brings in the part where she just knows how to play and compete right away."
The Chaminade women's basketball team will tip off the season on Thursday, Nov. 19, against Alaska at McCabe Gym at 7 p.m. The Lady Swords will compete in the Oahu Thanksgiving Classic at McKinley High School the following week before starting PacWest play in December.