Women's volleyball aims for PacWest title
The Chaminade women's volleyball season is underway, and this year the Lady Swords have lofty goals. With the addition of both new and returning players, along with their current powerhouse players, the team is aiming for a conference title.
"We have the personnel and the players this year to make a big jump," said CUH coach Kahala Kabalis Hoke. "So we're not looking to get two or three more wins than last season, we're looking at a conference title this season."
This may sound like a blustering prediction from an overly confident coach of a team that hasn't had a winning season since 2007 and was a mere 2-21 just four seasons ago.
But Chaminade is boasting a number of weapons this year that are expected to improve on last season's 12-18 record. After a season-opening tournament in Honolulu and last weekend's tournament in Hilo, CUH is now 7-1.
Returning to the team this season after a year back home is Kim Spring, a junior, the Swords' kill leader in 2012 and 2013 with nearly one-fourth of the team's total kills those seasons. Also returning this season after being sidelined for most of last year with a broken finger is Brenda Walker, a senior, the libero for the Swords and Chaminade's Female Student Athlete of the Year two years ago.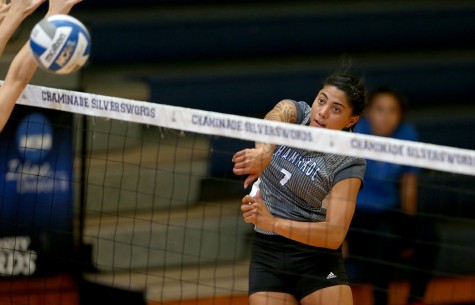 The Swords have also welcomed Keani Passi, a senior transfer from University of Hawaii at Manoa. The Pearl City native has already recorded 107 kills in eight matches.
"She is going to be a huge help we're absolutely thrilled to have her on the team," Kabalis Hoke said. "And not only is she an amazing player and athlete but she's also a great teammate, great work ethic, very coachable, and we thoroughly enjoy having her on the team."
These three join veteran Cassie Rushlow, a junior who led the team in kills last season and was named the team's Most Outstanding Player.
"In addition to Kim, we've got some new offensive weapons, and Cassie Rushlow proved herself last year to be an extreme weapon for our program," Kabalis Hoke said. "So I feel like this is a year that we have the most well-rounded team. Not only do we have defense, attacking weapons, a great block, but we also have experience and maturity, so I feel like its all going to come together this season."
Freshman Daisia LaBrie, a 5-foot-11 middle hitter, is expected to aid the Swords in scoring and defense with a lot of explosive attacks and blocks at the net.
Last season, CUH started strong with five straight victories but were unable to keep the momentum. After two heartbreaking, five-set losses to crosstown rival Hawaii Pacific University, the Lady Swords plummeted with six straight defeats at the end of the season.
With a starting team starring only two players from last season, the rejuvenated squad is eager to get the new season under way.
"I'm excited about the season," Passi said. "We all are. We know we have all the tools to have a very successful season, and we are so excited to show everyone."